Blessings In Diguise
By Joe Smith
"You may have chosen me," says Doctor Krill, "because my ad in the Yellow Pages said I used laughing gas, but this is no laughing matter." A response more eloquent than "um" is difficult. Gobs of cotton batting are wedged between my gums and lip, and there's a plastic device spitting into my mouth, bubbling like an infernal hookah. Besides, more than twenty years have passed since the last time I found myself tilted back in a dental chair, oral cavity propped open, knuckles white from gripping ...
Almost Like Being In Love
By Louis Martin
I get a lift across the border to the train station at Latour de Carol. I'm catching the 8:30 evening run to Paris. When I get in the car, it is almost empty. On a previous trip to Paris I was hoping to find the jazz clubs around Montmartre and Pegalle but failed to do so. I had only a few hours then and my taxi driver did not know the area. She only knew that Pegalle was where all the sex clubs were. She dropped me off near the Moulin Rouge, warning me to be careful. The only thing I found of interest was the L'X-O! club....
Eating Slow in Puigcerda
By Louis Martin
As I have said before, San Francisco is mostly a wonderful place. But now and then you must get away or go nuts. I was approaching near nuts, so decided it was time. In former times I went anywhere: Mexico, India, Nepal, Pakistan ... But I now have a daughter who lives in Spain. So I just drop in on her: "Hola, hija, what is for dinner?" But this time I had an additional excuse for dropping in: She had a birthday coming in a week. "What do you want?" I asked her on the phone. "Whiskey," she said, "and Cuban cigars." ...
Old-Fashioned Fish Jelly ...
By Louis Martin
"I'm Old-Fashioned." I always get a kick out of hearing Chet Baker sing that song. Chet Baker old-fashioned? Drunk and loaded on Heroin? Anyway, he sings it very nicely. Miles was always jealous of Chet because he sounded a lot like Miles. Thought that Chet was copying him. I think it is rather like this: Chet absorbed some of Miles but he had his own style. They were just similar kind of players. Miles never tried to sing, however. Now that is something to think about. Stopped by Enrico's last Friday. Thomas "The Knack" Waugh was in command at the bar....
Gardenia
By Joe Smith
Once we tried to guess how many times we'd make love together in the years we had left to us. Six thousand—that number sticks in my head, though it strikes me as awfully high. We may have exaggerated the number of years we had left in order to console ourselves for those we'd already missed. Like children whose eyes are bigger than their stomachs, we may have overestimated the number of times per year. Or maybe we simply weren't much good at multiplication....
Flowers, Fun, Sun, h'MUN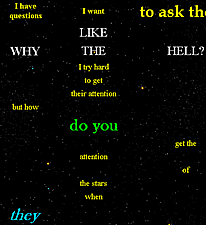 By Louis Martin
He looked like the quintessential crusty old San Franciscan to me, slicked back thin gray hair, a guy who looks like he has spent a whole life rooting for the home team at baseball stadiums ... But who knows? Maybe he was a tourist from Scotland and they made a deal with him to leave the country or face prosecution for being drunk. Drunk in San Francisco? Big deal? At least he wasn't on duty. In his perhaps-brain-damaged state he may have thought he was getting a good deal. Myself, I would have stayed to sue. What is the truth? I'm not sure I want to know....