Alley Dining at Its Finest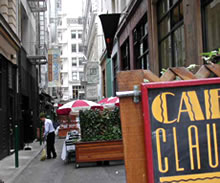 By Louis Martin
"Belden Place, Claude Lane, Bush Street." Just saying that makes we want to grab my hat and go eat. Along Belden Place, which is nothing but an alley between Pine and Bush, and along Claude Lane, which is nothing but an alley between Bush and Sutter, and along Bush Street itself, which connects those two alleys to each other, some of the finest food in San Francisco can be found. But it ain't just the food. It's what's sometimes called "atmosphere" but maybe better called character. You don't instantly create that. It develops with time, it ripens with age. It is like parmigiano reggiano or ...
Cocktails & Immigration, Don't Explain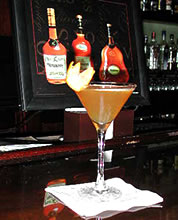 By Louis Martin
Just can't stay in on a Friday night. In fact can't stay in Friday afternoon. Usually head out three or four. Start with Chelsea Place on Bush street to check in with the Fong Lady, aka Fawn, who is gentle, thoughtful, likeable but, in her own words "lazy." But, she always adds, "I get the job done." She does. I don't think of her so much as lazy as liking to avoid trouble. She likes the good life but doesn't want to fight anyone over it. Sound reasonable? How sweet life would be if others had this attitude. She fixes me a Wild Turkey Manhattan with bitters I bring from home. Most of Chelsea's customers drink Whiskey or beer or both; it's a limited bar. For fancy drinks I go to Enrico's. Still I like visiting the Fong Lady....
Foehn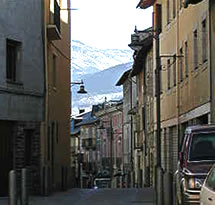 By Joe Smith
On certain crystalline days, perhaps two or three a winter, rare atmospheric conditions create what German-speaking peoples call a foehn, a wind which obliterates distances. The far-off Alps appear to be shrugging their snowy shoulders just beyond the flatlander's pond. It seems a village madcap could reach out to the mountains from his table in front of the tavern, scoop a handful of white powder and knock the mayor's hat off with a snowball. I'm ambling down Market Street on just such a day....
Life, Death & Limited Liability
By Louis Martin
The four of us sat there for nearly eight hours watching her breath. Her breathing was strong but came in gasps. Occasionally there was a worrisome hesitation before a breath. I found myself holding my breath until she took her next. But then her breathing slowed and more and more she missed a breath. At last the breaths grew weaker. Finally she was making little sucking sounds and her lips were moving like the mouth of a fish kissing. Then her breathing stopped. A few moments later there was no motion in her chest or neck. She was completely still. It was 3:53 AM, February 3, 2005....
Escape From The City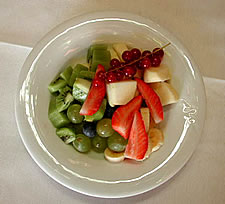 By Louis Martin
San Francisco is mostly a wonderful place but now and then you have to get away. I used to take off and go anywhere—Mexico, India, Nepal, Pakistan ... But now that I have a daughter who lives in Spain, I drop in on her. "Hola, hija, what's for dinner?" Before my latest trip, however, I got a little advice on places to visit from folks in the restaurant and bar business in San Francisco. When I asked Marco Dionysus of Enrico's and Harry Denton's Starlight Room fame about bars in Barcelona, he grabbed my notebook, drew a street map to a place named Boadas ...