How can I possibly choose? If you've already visited the decadent halls of the San Francisco Ferry Building, reopened in 2003 as a divine, gourmet food emporium, you can appreciate the difficulty of choosing the best of the absolute best. Luxurious food and drink offerings that showcase best of the region—Tsar Nicoulai Caviar, Hog Island Oyster Company, and Acme Bread, to name a few—make these halls as unlike a fast-food mall as a filet mignon is unlike a McDonald's hamburger. This substantial addition to the San Francisco food community is on the vanguard of good food production practices and fine eating; its offers the building blocks of extraordinary meals, both on premises and in your own home. Here, humbly, we highlight a few of the stellar components that make the Ferry Building, and its accompanying weekend Farmer's Market, the pinnacle of innovative, sustainable, and flavorful food.

Dried Mandarin Oranges from Everything Under The Sun
Though dried fruit is commonplace, dried citrus fruit is a rarity because it is so costly and time-consuming to dry, says Bill Crepps, owner and operator of Everything Under the Sun farm in Winters, California, and creator of abundantly-flavorful, sweet, tangy, and pleasantly-bitter, dried-mandarin oranges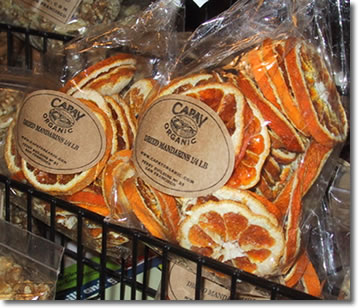 . From November through January, when fresh mandarins are in season, Crepps buys as many of the most inexpensive second-quality organic oranges he can find from local growers. Many of the oranges are from fellow Ferry Building retailers Terra Firma, but soon Crepps will be using oranges from his own farm. Peel, pith, and all, the fruit is sliced into attractive vertical rings. Says Crepps, "Unlike other dried fruit where you want a bit of moisture to make it chewy, for the mandarins you want them totally dry."
The fruit is warmed to just under 140 degrees and dried for 36-48 hours, depending on how much humidity is in the air. Says the Crepps, "You can't make them too hot because you'll lose the enzymes ... and the nutrients and the flavor start breaking down." The entire crop is bagged into quarter-pound portions and sold for $3.50 on Saturdays, when Crepps himself is at the outdoor farmer's market, or for $5 during the week at the Capay Organics storefront. Crepps is modest about his culinary achievement. "Drying is what you do with the fruit you can't sell elsewhere."
Once they're dried they move fast. They are sold until supplies run out, usually early summer. Crepps dries 20,000 pounds of the fruit during the growing season, but it reduces to only about 1,000 pounds of edible product.
Crepps has been drying the mandarins for two years, and increasing his production every season. In addition to the oranges, Crepps also offers delicious dried organic strawberries, kiwi, persimmon, several varieties of tomatoes, raisins, and pistachios and walnuts. The nuts come from Crepps' own farm, and everything else is grown "within a 30-mile radius."
In addition to their availability at the Saturday farmer's market and at the Capay storefront, these products will soon be available for mail order at www.EverythingUnderTheSun.com. Try them crumbled on top of stir-fry or salads, dipped in chocolate, or simply eaten in quantity out of the bag.

Lemon Verbena Chocolate from Michael Recchiuti
Chocolateur Michael Recchiuti is no stranger to the farmer's market. He sold his high-quality, hand-crafted chocolates at the old Embarcadero Farmer's Market in San Francisco for years. His high-quality and herbaceous chocolates, with flavors like tarragon, grapefruit, and lavender, have finally found a permanent home inside the Ferry Building corridor. While many of his creations are exquisite, the Lemon Verbena has a smooth appeal, perfectly balancing the richness of well-tempered bittersweet chocolate—a combination of cacao from Venezuela, Ghana, a bit of West African, and about 10 percent from Trinidad—with the light, sunny, and citrusy surprise of the Lemon Verbena herb.
Recchiuti has been making this particular chocolate since 1999. He says, "I really like
the herb and love the flavor, and all the things that I like have to become a chocolate." When we spoke in early May, his exclusive verbena supply from organic Ferry Building retailer Eat Well Farms was just a week away from harvest. "I used to buy herbs dry," he notes, "But there's always sand and debris and wood in the dry stuff, and no flavor because it would sit around forever." Instead, Recchiuti buys many herbs fresh and dries them himself (fresh herbs make the chocolate too watery and cause it to mold). Then the herb "tea" is frozen for use throughout the year, and infused into the creamy ganache at the center of every chocolate. From here it imbues its perfume throughout the confection. A season's worth of verbena is usually about 40-50 pounds of fresh herb.
The Lemon Verbena chocolate is a dark chocolate square decorated with a delicate white etching of a tall, leafy plant. Recchiuti says that the idea for this chocolate's design came from a Japanese block-print design book.

The Western Bacon Blue Ring Burger at Taylor's Automatic Refresher
When wine country yearns for a burger, fries, and milkshake, they wouldn't pound down a quarter pounder any sooner than they would guzzle a gallon of cheap Gallo. They do what they've always done—take a classic style, and reinvent it with fine, fresh ingredients in a clean, uplifting decorum. The three-foot red neon sign inside this newly-opened Ferry Building burger joint commands diners to "EAT"; and what could be better in summertime than the American classic combo made from quality ingredients?
The Ferry Building is home to the second leg of Taylor's—the original is in St. Helena in a charming 1959 spot with authentic burger-joint charm. It's as popular for its rare, succulent,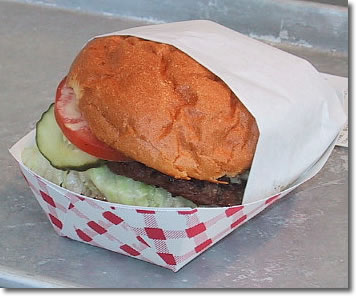 and sustainable burgers (all meat is from Ferry Building inhabitant Golden Gate Meat Company) as it is for its wine list of Napa and Sonoma "burger wines" (meaning affordable and unobtrusive). The brainchild behind the scenes is winemaker Joel Gott, also the owner of the upscale Calistoga Palisades Market. Taylor's is one of wine-god Robert Parker's favorite places to cleanse the palate.
And what better way is there to cut the sweetness of a California Guwertzimener than with the Western Bacon Blue Ring? If cigarettes come with a warning of their healthy detriment, then it seems only fair that this hamburger should do the same. No one should dare eat this indulgence with any regularity, but when you do, enjoy and throw all health issues to the wind.
One-third pound of antibiotic-free and sustainably-grown ground beef is cooked to medium-rare perfection. It is topped with mild bacon and a tangy, thankfully not-too-sweet barbecue sauce that enhances the flavor of the meat without overpowering it. One perfectly crispy onion ring adds depth, and well-behaved blue cheese gives the sandwich a pleasant and awakening bite. Crisp lettuce, tomato, and just a sliver of fresh purple onion are the only additional garnish this rich dish requires. One small matter to consider: Taylor's is proud of its Sciambra egg bun, which surrounds every burger, chicken sandwich, and fish fillet. While being a good "burger mitt," it seemed no match to the complexity of flavors of the Western Bacon Blue Ring Burger. Nevertheless, pair this with a pistachio milkshake and some sweet potato fries and you will immediately be transformed to the boardwalk, beach, and youth of summer vacation.
Taylor's is permanently located in the Ferry Building and open every day.

Farm Blend Pepper Jam by Tierra Vegetables and Adamson's Happy Haven
Some foods blend the best practices of multiple-skilled food artisans, and such is the collaboration that makes this jam. Tierra Vegetables out of Healdsburg, California, is known for its piquant array of dozens of fresh and dried hot peppers and chiles. Ellen Adamson of the Sonoma-based jam maker Adamson's Happy Haven is an expert at her craft. Combining the best ingredients available with the expertise of a skilled jam-maker produces superior results.
From the line of seven scorching and abundantly flavorful hot and sweet selections, the Farm Blend, selling for $8 at the Saturday Farmer's Market at the Tierra Vegetables stand,
is one of their most popular, and for good reason. If is the perfect accompaniment to everything—toast, meats, stir-fries, quessidillas, ice cream—if you love hot food for hot weather.
The whole process began about ten years ago when Wayne and Lee James, purveyors of Tierra Vegetables, had an abundance of hot peppers for the season and they decided to try an alternative product for their peppers. The results were successful, and Tierra has been hiring Adamson to make their jam ever since. Powerful? Says Adamson, "It will blow your head off!"
Tierra grows their sweet and tongue-numbing selection of chile peppers, sold fresh in season (August through November), dried, or smoked and dried. They have several different blends. In fact, Lee James compares their offerings to the house blends of a winery. But the Farm Blend is a mix of sweet bell peppers and pimento, and hot stuff like jalapenos, pablanos, fresnos, and chilacas. It's hot, but not so hot as to overpower the flavor of what you're putting it on. For a bit of a twist on the Farm Blend, try the Smoky too—a combination of the sweet and succulent Farm Blend peppers with the hot smoke of chipolte peppers.
Summertime means the James family grinds the fresh peppers, pours the mix into containers, and then freezes it just long enough to take it to Adamson's in Sonoma. Here, the peppers are mixed with vinegar and sugar, and cooked for a couple of hours in 130-pound batches to make approximately twenty cases of twelve jars each. James says that approximately four or five batches of the Farm Blend sell every year. Adamson makes the jam exclusively by contract to Tierra Vegetables as a private-label service.
Adamson's Happy Haven makes other jams under their own label, such as Plum Lemon Ginger and Peach Chutney. They are available only at select locations in Sonoma and at AdamsonsHHRanch.com. Farm Blend, Smoky, and the other fiery varieties of pepper jam are sold not only at the San Francisco Farmer's Market, but also at the farm stand in the Tierra Vegetables field, and via mail order from www.TierraVegetables.com.

Red Hawk Cheese from Cowgirl Creamery
From the beautiful Point Reyes National Seashore comes another natural beauty, the Red Hawk. It's one of the artisan offerings of cheese makers and independent global cheese curators, Cowgirl Creamery. Cowgirl is respected as a reseller of small, handcrafted cheeses from all over world, but recently their own cheese offerings have gained recognition. In 2003, the Red Hawk was awarded Best-In-Show at the American Cheese Society's annual conference. Cheesemaker and co-owner Sue Conley says the Hawk has been soaring in popularity ever since.
At $19 a pound—roughly $14 for a twelve-ounce wheel—the Red Hawk cheese is an indulgent luxury. The flavor, however, is worth the cost. It's a triple-cream cheese made from organic Strauss Family Farms milk, making its texture akin to a soft brie or camembert.
Despite the fact that it's a cow-milk cheese, which can be a mild varietal, the Red Hawk takes its name from the sanguine color of its rind, the secret to this cheese's attentive and pungent flavor. For six weeks, the rind of the cheese is "washed", meaning a salt water solution bathes the outside to bring on a naturally-occurring bacteria called B-Linen. Most cheesemakers need to inoculate cheese with this particular bacteria, but thanks to the saltwater air of the Point Reyes coastal zone, at Cowgirl the rind occurs naturally. This bacteria and the aging process give the cheese its telltale color and, more importantly, its strong aroma, earthy flavor, and rich dairy texture.
Cowgirl has been making this cheese for five years, and the creamery churns out about 600 wheels a week. Over the years the consumer market has grown tremendously, and the cheese has been served on the menus of local restaurants like Gary Danko, Zuni Cafe, and Chez Panisse. Conley recommends enjoying the cheese as simply as possible—a crusty bread and a Riesling, or perhaps some preserved cherries or dates, are all that's required.
The dairy makes other cheeses, such as the mild St. Pat and the medium-bodied Mt. Tam. They also feature other dairy products, like ultra-mild and creamy fromage blanc and cottage cheese.
Visitors can stop by the original creamery location at 80 4th Street in Point Reyes Station, about an hour north of the Golden Gate Bridge. In San Francisco, their products can be found at Artisan Cheese at 2413 California Street at Fillmore or in the Ferry Building. Phone orders can be placed at 707-789-2604, Monday through Friday, from 8am to 4pm PST.
Home | City Notes | Restaurant Guide | Galleries | Site Map | Search | Contact