Andrea Immer holds a partially filled glass of red wine in her left hand. She twirls it slightly
into the light, sniffs twice, takes a small sip, and then spits daintily into a paper cup.
"Not awesome," she says. "But pretty good."
Immer, one of only 37 master sommeliers in the United States, represents a growing trend of women developing tremendous influence in the wine industry. At 32, she's the beverage director of the Rainbow Room at Rockefeller Center, as well as of Windows on the World at the top of the World Trade Center. Her budget at most wine auctions is generally around $40,000.
"Women actually have an edge as far as tasting and subtleties because anthropologically, women are super tasters," said Kim Caffrey (right), owner and operator of Wine, Woman & Laughs, a Napa Valley-based company offering entertaining and educational wine seminars. "They have heightened sensitivity to taste and smell. Having that advantage, they are able to maintain more subtle aromas."

Biological superiority and the relative youth of the industry in the United States has made wine both a fascinating and welcoming enterprise for many women. That, says Michaela Rodeno, CEO of St. Supery Winery in Rutherford, has made wine one of the most progressive career venues out there.
"Women actually do very well in the fine-wine business," said Rodeno. The reason, according to Rodeno, is that the fine-wine business "didn't actually get started until about 30 years ago—so it didn't have time to build up as many barriers as the more institutional industries have."
This is not to imply that working in the wine industry doesn't have its obstacles. Nor is it a philosophical statement about the overall social evolution of the country. Daryl Roberts, editor and publisher of Santa Rosa-based Wine X Magazine, was quick to point out that there are still a disproportionate number of men behind the illustrious cork and bottle.
"It's like any other billion-dollar industry," he said. "Men dominate."
Robert's cynicism is likely rooted in the statistics. In what is considered the heart of the West's wine country, only one of the 250 wineries in Sonoma and Napa counties is wholly owned by a woman. Today in California, the nation's leading wine-producing state, there are only half a dozen women executives running big wineries, a few dozen women wine makers, and, at last estimate, around 100 working in the vineyards, cellars, labs and marketing departments. Throughout the rest of the country, only about 25 percent of U.S. wineries employ women in any kind of managerial position. The numbers are better than in the last few centuries, when the mere presence of a woman was believed to contaminate wine, but the numbers aren't anything to toast to.
"You have to remember that there hasn't been time for a transition yet," counters Rodeno. "The people who started most of the wineries ... are still there. Once all the old farts clear out of the way you're definitely going to see tremendous change."
If the classroom is any indication, Rodeno may be right. UC Davis, one of the top agricultural schools in the country, reported in 1997 that 35 percent of its students seeking degrees in Viticulture & Oenology were women, a 15 percent jump in just 10 years. As the science behind wine continues to expand, these numbers will have an obvious impact on the industry.
Delia Viader, founder of Viader Vineyards & Winery in Napa, doesn't have a science degree; but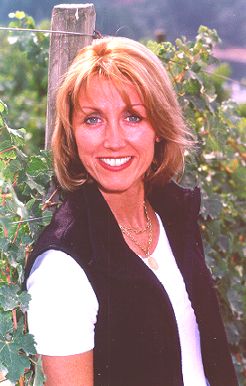 she does have a Ph.D. in philosophy from the Sorbonne University in Paris and an MBA from MIT, and she speaks six languages fluently. She's even been toasted by President Clinton for her entrepreneurial successes.
Viader fell for California's wine country while attending UC Berkeley. She took over 18 acres that her father had originally bought for a future home site and planted a vineyard so steep the neighbors laughed at her. Shortly after, she began taking classes in wine production. Today the Viader label rarely receives less than top bids at auctions, and the neighbors are oddly silent.
While Viader, a disarmingly attractive mother of four, argues that she doesn't need to work any harder than vineyard owners with the XY chromosome, she does admit that she has had to prove herself more often.
"All women who have managed to rise to a high position have something notable in them," she said. "This is a very competitive industry. But I think it is also an evolving one."
Anybody questioning whether the wine industry has indeed evolved needn't look any further than Wine X. That the magazine is targeted at Generation X is noteworthy in itself, to say nothing of the fact that its readers often respond to informative pieces with letters like: "The best f---ing wine magazine out there!"
"There is a cross section in Gen X that is more blurred, each sex more in touch with opposite feelings," said Caffrey, who, apart from her wine seminars, writes a regular column for Wine X as The Wine Chick. "A lot of cultural/sexual stigma stuff is no longer prevalent, and people are more ready to learn about new things. Wine happens to be one of them."
Drink to that.

FUN FACTS ABOUT WINE
Not all wines improve with age. The aging process for more accessible red wines such as those made in California, can be manipulated to produce a mellower flavor.
Rocky or nutrient-deficient soil found in higher elevations and on hill sides produces better wines. The trick is to "challenge" the vines by making them "work" harder.
The word "alcohol" is derived from the Arabic term al kohl or alkuhl. Ironically, for religious reasons most Arabs don't consume alcohol.
The idea that screw-off tops are only used for cheap wines is false. Corking a bottle of wine has nothing to do with the quality. It is a remnant of the olden days of wine, and largely remains due to the perception that wine with a screw-off top tends to make a better cleaning solvent than a dinner beverage.
The wreck of the TITANIC holds the oldest wine cellar in the world, and some of the bottles are still intact.