— Part I —
Avant Paris
Before I leave for Paris I get the news: Enrico's has closed. I walk over to North Beach just to check it out. The sign says THANKS FOR 50 GREAT YEARS!
WHAT? THAT IS HOW IT ALL ENDS?
It is hard to believe. It is the best of the best in San Francisco. It IS San Francisco. I can think of dozens of places that should close before Enrico's.
HUNDREDS. THOUSANDS.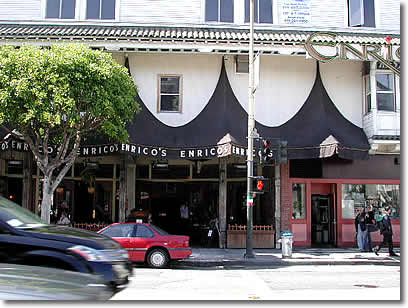 There is nothing like Enrico's, never will be again. It is, or was, a one-of-a-kind place. It was not a copy of some other place that made money so an investor said okay, give it a try.
It was born in the mind of a man of many talents, Enrico Banducchi, who came to San Francisco at the age of 13 to study violin with concertmaster Naum Blinder. He studied with Blinder for awhile, then got more interested in restaurants and entertainment. He cared little for money and finance; he just created great places and people showed up. In his day he was legendary. He created the Purple Onion, the Hungry i, and Enrico's Sidewalk Cafe. He gave people like Woody Allen, Barbara Streisand, Mort Sahl, and Lennie Bruce their first contracts. At one point he owned a boat, a plane, and a ranch in Sonoma. He had it all. Enrico knew everyone who mattered in San Francisco, and everyone who mattered in San Francisco knew Enrico or at least said they did. Then the government moved in on him. Maybe it was Mort Sahl's political humor, maybe it wasn't. Maybe it was Lenny Bruce's 10-letter words, maybe it wasn't. But they cleaned him out. You see, he did not keep good financial records. He did things his own way. As Ward Dunham, a legendary Enrico's character, once told me, when Don Fagoni or some one else came by and wanted to "paint the town," as they put it in those days, Enrico just grabbed a fist full of 20s from the register and went. "He didn't even close the register."
Now a guy like that is a lot of fun but may not strictly meet all the IRS requirements for financial reporting. The IRS took him apart. He lost the place to the feds, and just about everything else he had. But others took over the sidewalk cafe and somehow kept the spirit alive. Now that is hard to do. Usually when the creator of an establishment goes, the place dies. But not in the case of Enrico's Sidewalk Cafe. Apparently there was something so strong there in the conception of "Enrico's," and it was so very San Francisco, that it lived right on. It seemed to have a life of its own. Several generation of poets, writers, artists, and other "deadbeats," grew up there. It was their home when not sleeping on the couch in some small room that was their official home.
But now in 2006 a landlord wanted a 10-year lease, and there were other factors that caused the owners of Enrico's Sidewalk Cafe to give up. On Monday, October 30th, 2006, the place closed as did a chapter of San Francisco restaurant and night-club history. Forget the president and his 9/11 shit; let's talk 10/30 when the real shit happened.
It was only a few years ago that Enrico himself was describing to me a San Francisco classic of another era: The Black Cat. It was a popular Bohemian hangout back in the 30s and 40s. Enrico said he used to hang out there with William Saroyan the writer. "There was always a tall gay black man there playing the piano," he told me. "The smell was great and you could get anything you wanted at the Black Cat."
He also told me that it was named after the famous Chat Noir in Paris. So on another trip to Paris I looked the place up. It was located in Pigalle, a red-light district of Paris that bears some resemblance to Lower Broadway in North Beach, but on a much grander scale. As it turned out, Le Chat Noir had been knocked down and rebuilt back in the 1950s. But there was still a place there on Boulevard Clichy by that name. There were photos of the fabled original place. I shot photos of the photos and talked with the current owner.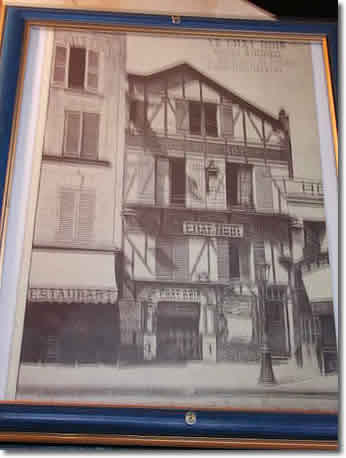 Was Enrico's Sidewalk Cafe going to undergo a similar fate? Would it be replaced by modern functional architecture and a new sign declaring it as "Enrico's Sidewalk Cafe"? Would there be a photo inside of the original? Would the Cosmo permanently replace the Negroni as the drink of choice? Let us pray.
A Paris
So now I am here in Paris but thanks to Lufthansa my luggage is not. I had been warned about Lufthansa by the agent in San Francisco. But now I'm actually sitting in the Lufthansa office at Charles de Gualle Airport with their agent. She is filling out the form for me. I do not smile and she does not attempt humor. When she has completed the form, she hands me a copy and one of Lufthansa's "emergency kits." It is a black plastic bag containing a tooth brush, tooth paste, shampoo, and huge white T-Shirt that is good in no Paris restaurant or cafe. This is not a fun way to begin a trip. It is also a very disappointing end to a long flight. "Gay" Paris may be out there, but you are not.
But the screw-ups don't stop there. The "universal" adapter, manufactured by Kensington, that I have bought for the laptop does not work. I buy another at Castorama in Paris and it also does not work. But then I'm lucky. A third does. And on the second day my clothes have arrived from Geneva. I'm ready to begin my life again. I'm sorry to have become so dependent on "stuff" like clothes and electricity but there is a baseline that is required for functioning in the world as we know it today. Without that "stuff" your job is first to obtain it, then press restart to restart your life. Wish it were otherwise.
I have one other small problem: My apartment at 15 Rue Veron in Montmartre is historical and I do not know how the locks work. I do not go out the first night even for food, as I figure I will be spending the night on the street. The next day the concierge shows me how the locks work. I am now free to walk the streets, to babble, whatever.
Marche
I have no definite goals. I just begin to walk the main avenues—les boulevards—and the streets—les rues. I want to find a good place to sit and have a drink; I want to find a place that is comfortable, where I can have a moment of ease with myself. I wouldn't mind a little conversation but I'm not demanding.
I'm also anxious to get away for awhile from a landlord in San Francisco, one of the city's most abusive. I just want to "hang" for awhile, and Paris seems like a good place to do that.
On Sunday, dressed in clean clothes, I walk to the top of the hill in Montmartre. I know this is not a great idea; I've done it before. On weekends you are going to find nothing but tourists there. If you are a pickpocket, you could not pick a better day. I'm a pickbrain—I will steal your ideas if you don't have them nailed down—but not yet a pickpocket.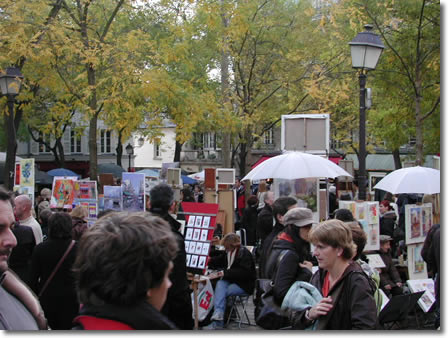 So I soon find myself mulling around with a lot of people who look like they have no idea in the world what they are doing there. It is actually good. I get this out of my system early. Almost immediately I head back down the hill. There are half a dozen ways you can get up the hill and the same number down. The hill is rich in streets heading off at all angles. I believe I came up Rue Lepic, which winds snake-like up the hill, and descended by a more direct route.
I pass Rue Abbesses and at the bottom of the "mountain of the martres" come to Boulevard Clichy. I take a right. This is my first time out and I just feel like walking. I marvel at the width of the boulevard with the broad center strip for pedestrians and with bicycle paths on both sides of this center strip. The boulevard is friendly to both cars, bicycles, and pedestrians. The subway runs below, making it even friendlier.
Before I reach Rue Caulaincourt and the statue, around the corner and down the street, of heroic characters of another era, I stop in a bar. I have no cannon and do not feel heroic today. The bar is not a French bar; it is an Irish one called Corcorran's. But I like its looks. It is a long bar with few customers, and I just want a place to collect my thoughts. I don't want the excitement of the Sunday-brunch crowd in Paris. I'm not trying to cram the good life—la bonne vie—into one afternoon before returning to a job I hate.
I have this idea about doing a lot of walking in Paris this time. I have had the same idea in San Francisco. I want to think about that. In San Francisco, you can walk Kearny Street to North Beach or down to Market Street. You're going to go through North Beach, Chinatown, and downtown, cross near Union Square, then hit Market at an angle. You cover a lot of ground. Or you can walk Powell Street or Hyde right out to Fisherman's Wharf, cutting first through Union Square and Nob Hill. Again, you cover a lot of ground. I begin to wonder how it would be to take Boulevard Clichy in the other direction. Here I'm in the red-light district and not far from the postcard-like rues of Montmartre. The Moulin Rouge is just up the street. What if I continue up Clichy and pass right through Pigalle without stopping to have sex? Where do I end up? Is Paris all sex shops or all postcard-perfect scenes for tourists? Not likely. I ordered Four Roses Bourbon whiskey from a young bartender who looked like he'd had a few too many the night before and tried to imagine where Boulevard Clichy ended up.
Then, thinking about all this, I walk back to my apartment, past the sex shops, past the small open markets with their goods on display. Every thing is tempting, everything is for sale here. On Rue Lepic I hear music in the street. There is a small band playing with baritone horn, clarinet, tenor saxophone, and a banjo-like instrument (photo below). An older woman, as though in a spell, begins dancing. I turn right on Rue Veron and there is music coming out of a bar called Bistot a Vins. A man of about 60 is singing and playing an electric keyboard. He has a good voice and sings with passion. People are dancing, and it is not the young people; it is the older folks. I go in and order vin blanc. One of the dancers comes by and toasts me.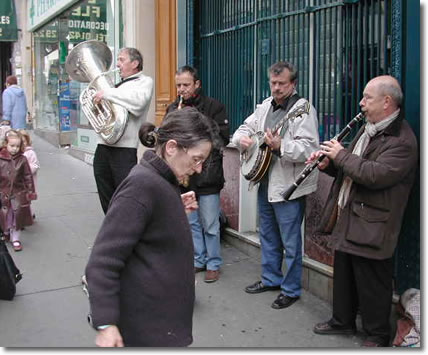 She asks me a question but speaks too fast. I don't understand.
"British?" she asks, seeing my confused look.
"Je suis de San Francisco," I say, my standard response when asked where I'm from. If asked more, I'm prepared to say it is a country.
"Que buvez-vous ?" she asks. (What are you drinking?)
Things are beginning to come alive for me. Before I go back to my apartment, I walk down to Place d'Abbesses and watch the small kids on the carousel, their parents standing by. I notice that the streets are empty of cars. Sunday, so it seems, is a fun day and a family day; and cars are banned in Montmartre. San Francisco, take note: Banning cars in an area on Sunday does not kill buisiness; it increases it.
I walk around a little more, noting again how the streets cross at all angles and branch off in multiple directions. If the city planners have had a hand in this, it is only after the fact.
Marcheur de Rue
Later I walk down to Pigalle and prowl the back streets. The "sex shops" are on the main boulevard, where it is all neon signs and gaudiness. But on the back streets I find the little bars with the "girls." I don't go into any but I can see through the windows. This is different from San Francisco, where the girls work in "massage" parlors. Alcohol is kept out of the mix in San Francisco. It is the same in the strip joints in San Francisco. In the totally nude ones, no alcohol is allowed, the idea being that it might lead to you-know-what. Now whoever thought that up is probably in need of you-know-what.
When I have finished prowling the back streets, I drop into a cafe called Au Rendez-Vous des Artistes . I see no artists meeting but I do see one very sexy looking femme eating all alone. I ignore her. The bartender is not doing much so I ask him, "Avez-vous de cocktails?" I am fond of cocktails, especially the American kind. Legendary bartender Dave Nepove of Enrico's got me hooked a few years back.
I really mean to ask him if he makes cocktails, however: "Faites-vous des cocktails?" But I'm close enough.
"Oui monsieur."
"Avez-vous de verre de cocktail?"
"Qui." He holds up a tall fluted glass.
I indicate the V shape of the cocktail glass used in the U.S. and ask if he has any.
"No, seulement ceux-ci "
I order a whiskey. I think it is Four Roses again. I do not see Four Roses in American bars. But in France and Spain it seems to be the standard in bars, along with Jack Daniels. He pours it into a tall narrow glass with a single cube of ice. It is not the way I like it, in a broad whiskey glass with a lot of ice, but it is okay. I didn't come to impose my will on a foreign country, let alone its bartenders. When I have the language down, maybe I will become pickier about glasses and ice cubes.
"Votre première fois ici?" he asks. My groping for words has no doubt elicited his question.
"No," I say. "J'étais ici il y a tois ..." I can't come with the word for months. I break down and say, "Comment dit on 'month'."
"Mois," he says. He begins to drill me on the words for day, week, month, year: jour, semaine, mois, année.
I'm a little humiliated but at least I learn something. I go home and study the days of the weeks and the numbers. I have these big blank areas in my vocabulary, as if I have been in an accident. I know the words that interest me but not all the practical stuff.
| | | | |
| --- | --- | --- | --- |
| une | duex | tois | qatre |
| jour | un moment | | semaine |
| mois | | du plasir tranquille | annee |
| huit | sept | six | cinq |
I prefer a life of dreams but they are often denied me.
Un basir,
Une promesse du plaisir;
L 'air qui respire,
Baisers qui sont des lèvres
Et une vie des rêves;
Tous dans
Un après-midi.
Some day, maybe.
This is all on a Sunday. The next day I have to take care of business: First Le Poste. I have legal papers I need to send back to the U.S. Next I need to get money from "the machine." Tuesday I have dedicated to relearning the Paris subway. My landlord smiles at me when I tell her that, then, thinking about it, seems to comprehend. I used to know the Paris subway but it has been awhile since I have been on it. I figure a trip to Saint Germain will cure that. It does. I will spare you the dumb details. It was nice walking along the Seine, even with a few tourists on a Tuesday. There were the golden colors of fall leaves, and the boats on the river that, mid week, seemed sleepy. All but a few artists seemed to be on vacation. I did not venture far into Saint Germain, just up Rue du Bac to Boulevard Saint Germain, where I ate lunch in a small cafe with a bunch of business men. Saint Germain is no longer the home of the artist, or at least the poor one. There is a phrase that I've come to appreciate and that applies especially to Paris: "of another era." Read the literature about a place if you want but realize that if it is written down it is probably obsolete. And when it come to art, be aware that artists often give a place a good name, or at least a romantic one, and once a place gets a good name, the artists are thrown out on their ears. That is just the way it is. Keeps the artists—or the real ones—anyway, on the move. The real ones do not live on National Endowment for the Arts awards. And rarely do they live in artists' colonies.
But now it strikes me that this is turing into a journal de voyage and that is not what I had in mind. If I keep this up, I'll soon be talking about architecture. Mind you I'm interested in architecture but not per se. When I see ugly buildings it tells me something. It tells me that no one cares anymore. It tells me that a bunch of cheap bastards are running things. It tells me that all they are interested in doing is separating people in space and charging them money for it.
Take most of the architecture in San Francisco since the 1950s. Cheap. Functional. Useful, I suppose. But keep it up and you will have a city that is not worth looking at. You would think that it is built by Ibmel for only one reason: To make money. Know Ibmel? Read more.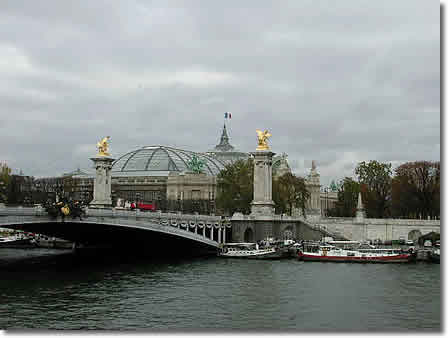 So I'm happy to make one positive statement about my touristy Seine walk. The architecture is absolutely magnificent. It is of another age, of course—an age when for some reason those in charge of building buildings cared about how they looked. It cost money; it required labor, of course. But it was also made to last, so you had it around to enjoy looking at for a long time. What a deal. These days, at least in San Francisco, the idea seems to be the short-lived eyesore.
Short-lived eyesore.
Long-lived magnificence.
Take. Your. Pick.
So if my Seine walk has degenerated, I apologize for that. I have no interest in walking per se ... Walks bore me. It's the little walk within the walk, said the table to the chair ... Well, you might not understand, or be aware. Chilblains on the feet. Something like that.
Rue Clichy
I did, however, take a walk the next day that bore a strong resemblance to most other walks. I went down to Rue Clichy in the early afternoon and headed east. First I passed the sex shops, including the Sexorama, which has no match in North Beach. But after Place Pigalle, the sex shops began to thin out and the buildings became more and more plain. Soon the shops were selling practical stuff that tourists don't buy. Then I began to detect an ethnicity to the approaching neighborhood. It was becoming strongly Arab in character. Now I could have read all this in a book. But I prefer to go out with my own eyes and stare at stuff.
Yes, my eyes were telling me the truth. I was entering an Arab neighborhood. The cafes were no longer promising an exciting view of the street while sipping wine, beer, or an espresso. They were promising no view at all, just strong spiced food that would keep you from getting sick. Or make you sick, if you were not used to the spices or certain bacteria.
Berets were now replaced by fezzes. I did not see one beret for sale and none of the many white fezzes had "Paris" printed on it. And there was cloth and scarves for the woman. There was probably a whole lot more that I did not see in the shops because my attention soon went now to a large market under the subway tracks at Barbes Rochecourt that come out of the ground and ran overhead.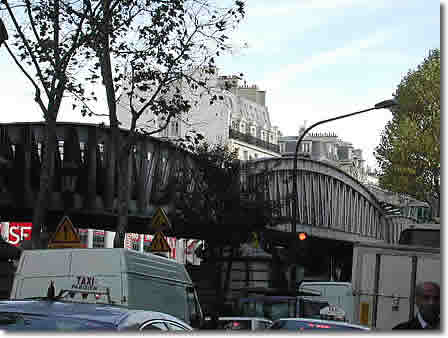 Trucks lined the market all along the way, so that it was hard to find an entry point that was not jammed with someone coming or going to the market. Finally, however, I wedged my way in. Vegetable, fruits of all kinds. Vendors shouting. Men and women poking and prodding, then sometimes buying. I simply stared and walked among the crowd for awhile, trying to avoid bumping into people. I found little appeal in this market, however, beyond absorbing some of the excitement. It seemed to be the same stuff for sale in vast quantities. My preference is for the small market with highly individualized items for sale, such as along Rue Lepic or many other place in Paris. I can get into soft cheeses, crunchy bread, pastry of any kind, but not vast quantities of fruits and vegetables. I can, however, be fascinated by one really beautiful pear. Call me insensitive if you want. A book will tell another story about the Arab market and leave me feeling dumb, insensitive, and ashamed. I did observe that at each end of the market there were some clothes for sale. I don't know why they fit in with all the vegetables. A book would explain that. Walking back to Pigalle on the other side of the street, I did observe a couple of good men's clothing stores, Arab I believe. Young me, well dressed, stood outside smoking cigarettes. They were probably a fringe element of this community. It was nice to be heading back to the sexy part of town. I understand that market better.
Speaking of the other side of the street, let's switch to the right margin of the page for awhile, okay? Other things can happen over there.
Le côté droit de la page. Perhaps from there we can observe other things. Autre choses.
So on the way back I crossed the street again and headed up the big hill of Montmarte.To tell the truth I was hungry and hoping to find an appealing little cafe to sit in and drink wine.
Mon dieu. Ce que j'ai trouvé était une industrie des touristes. It centered around Basilique Sacré Coeur on top of the hill. I got my first real view of Sacré Coeur looking up one of these narrow streets. It is indeed impressive, a huge white domed basilique seen across a lush green lawn.
Just a glimpse is refreshing, so that is all I did—take a quick glimpse—then went back to hunting down a cafe. There are some nice places but they are all packed with tourists. I don't feel like rubbing elbows at this time of day. It is about 3:00 and I'm seeking peace and quiet, as I seem to be doing so often these days.
So back I head toward Rue Veron and my apartment near Rue Lepic. I notice they are serving lunch at Bistot a Vins where I had stopped for wine on Sunday. Now it was quiet with only a few customers. I went in and had sausage and lentils with a small carafe of vin rouge. I seemed to be the only tourist-type there but sensed no strong resentment among the few customers. I kept my voice down and behaved.
Le Jour Suivent
The next day I decide to do some serious wandering down Rue Abbesses. But it does not go far before it angles off, turning into Rue D'Orsel. So now I'm doing some serious wandering down Rue D'Orsel. But it doesn't last long either. So now I'm just wandering, trying to maintain the same direction. I quit being very serious about it, however. Soon I find myself in the same vicinity of the day before near the Basilica Sacre Coeur. I'm back in the same tourist district that I fled yesterday. I walk on by, maintaining the same direction till I come to a cafe called Le Diplomat on a sharp-angled corner. It is less crowded and looks like it serves regular customers, not basilique-bound tourists. I decide to give it a try.
The waitress is over pretty fast and I order a small carafe of wine and un omelette avec fromage et jabon. Then I begin to watch the drama outside. There are two cars parked on the sharp angle of the corner, both illegally. One is parked next to the other, in other words, it is double-parked on the corner. I see a lot of "creative" parking in San Francisco but this is spectacularly weird.
Soon there is a cop and he is writing a ticket.The owner of the car that is double-parked is soon there having a discussion with the cop, who responds without looking up from the ticket he is writing. What line of bullshit is the owner of the double-parked car on the corner giving him? Whatever it is, the cop is not paying much attention. He finishes writing the ticket and hands it to the double-parker, who gets in his car with another guy and drives off. The cop then begins writing a ticket for the owner of the illegally parked car on the sharp corner. Did I say it already? I guess not. In combination these cars are creating a considerable hazard to other drivers who have to get around them. The driver on the corner seems to accept his ticket with more grace but not without some protest. The cop leaves and the driver gets into his car, along with another person, then gets out a sign that says "Student Driver" and places it on top of his car. He drives off. Well, I guess there is some kind of lesson there, and hopefully the student driver figures it out for himself.
I tell the waitress, ma serveuse, who shows up with the wine:
"Il y a un théâtre des voitures ici."
"Qui, monsieur. Tout le jour!"
She blames it on Pigalle. I guess all that sex makes for bad driving or reckless parking—or something like that.
I try the wine. Almost immediately I smell vinegar. Also, It is full of sediment.
When she some with the omelette, I tell her:
"Je pense que le vin est mauvais—vinaigre."
She smells it and carries it over to the bartender who also smells it. She brings it back, saying that he thinks it is okay. I learn a lesson: some places serve very cheap wine that smells like vinegar. This glass was the bottom of the bottle of such a wine. Some other places sell wine that is very new and tastes a little like paint varnish, or what I imagine paint varnish would taste like. Well, so what? The eggs came runny and the wine kind of went with them. In the end it all tasted pretty good. Which is not to say I'm recommending Le Diplomat.
After my late lunch I decided to walk on up the hill and have a look at what I had been avoiding: Basilique Sacré Coeur. Or rather, I walked up the stone pathway to it. The steps and the railing appeared to be made out of petrified wood.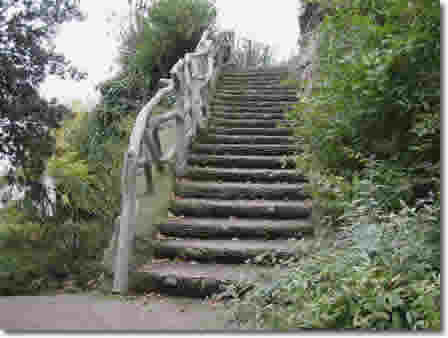 The gardens along the way are quite beautiful. At the top you get a panoramic view of Paris. As to Sacré Coeur itself, I did not go in. It is interesting to note its close proximity to the red-light district. It kind of broods over it, powerless to stop what is going on down below. And even the police seem unable to stop wanton parking of vehicles.
While walking about I drew a map of the area, partly to keep my details straight and partly so I didn't get lost. It does not seem to match my map, however. I wonder who is right. The guy who made the map, perhaps based on other maps that are in turn based on other maps, or the guy who walks the streets? Maybe it does not really matter. With Sacré Coeur on the hill, you pretty much know where you are at all times, even if you're down below in one of those red-light places.
C'est Vendredi
But now it is Friday and I have a plan. I'm going to use my renewed metro skills to get me to Montparnasse. I have never been there and I want to see if if lives up to the legends about it. From my limited reading, I understand it is one of those places invented by artists. I want to count them. My brother and I used to count jack rabbits on trips to the desert—"no, I saw it first, not you"—and in Montparnasse I want to count artists. If my brother were along on this trip, we could fight over who spotted an artist first and how fast he ran to get out of the way.
By the way—d'ailleurs—it is Friday and that is always kind of a happy day for me. I'm not quite sure why because I do not work like other people. I often take Friday off and do nothing useful at all. But I still feel the release of energy that is part of Friday. It is like an exciting little holiday and the energy is infectious. I like to get out, see what is happening around town, any town that I happen to be in, Paris no exception. So forgive me if you sense a little manic energy here. I will try to keep a cap on it.
Anyway, my metro skills prove to be quiet sound and I find myself at Gare Montparnasse by early afternoon. A single request for directions—ou est le ... —gets me to that fabled boulevard, Boulevard Montparnasse. And it IS a grand boulevard. For some reason they are building a skyscraper nearby but that is probably another story. I do hope it is their first and last in this area of town. It is one of those tinted-glass things, mostly glass, some metal. It is tres modern and makes you feel as warm inside as having a rectal exam. But it does not really compete with Le Boulevard because Le Boulevard is a grand conception with grand old buildings, most less than five stories and some, I notice, with the architects' names proudly displayed on them. Not afraid to sign the work, unlike many modern cowards, who fear not just lawsuits but ridicule as well.
"So what are you saying, sir? Que dites-vous, monsieur ? You don't seem to like the new buildings any too much. Maybe that just means you're getting old—vieux. Have you thought of that?"
"Could you speak up? I am a little hard of hearing and you seem to mumble?"
"I'm saying that you do not appreciate the modern age."
"Je n'apprécie pas l'âge moderne?"
"Exactement!"
"Have you read Le Serpent et La Lime by La Fontaine?"
"No."
"Maybe you should:
'Ceci s'adresse à vous, esprits du dernier ordre ...
Croyez-vous que vos dents impriment leurs outrages
Sur tant de beaux ouvrages?
Ils sont pour vous d'airain, d'acier, de diamant.'"
"La Fontaine was a bitter man, un homme amer. He put people down."
"And he was an honest man, un homme honnête."
"i would not want to hold such bitterness."
"It is a delicate balance, un équilibre sensible."
"Tres sensible."
"Tres tres. So let me just say that a little more sensitivity might be applied to modern architecture, and a little more money—or in a few years we are mostly going to be looking at merde."
"D'accord, monsieur."
The problem is that these days buildings are mostly business decisions by business men who care only about the money involved. Buildings are not like clothes and cars or other things that consumers have a lot of control over. Sure, you can refuse to live or work in an ugly building but what are the alternatives? Equally as bad. It's a this-is-what's-available-right-now kind of thing that is dictated by the financial mind, and the financial mind is calculating the least amount of money per square foot that won't collapse and cause a lawsuit. So much for aesthetics!
But on the grand boulevard you can still see those buildings that the builders were proud of. You can strut the boulevard and stare as much as you want. You may notice one odd thing at street level. Those wonderful sidewalk cafes have been closed in. That is, they have built extensions of the restaurants right over where the sidewalk portions of the the cafes used to be. I guess this is to protect the diner from the street or people on the street. But it seems a little self-defeating. The whole idea of the sidewalk cafe was to be in contact with the street and the people on the street. But that is what happens when you upscale something. The original conception is lost. And by the way, had my brother been there and we had counted artists, no one would have won. I saw no artists at all. But maybe that is the way they like it there now on that grand boulevard: sans artistes.
Finally I cut over to the side streets, where I often find the real life of a place. There the streets went crooked again or at strange angles to each other. I was feeling more at home. Turning two sharp corners a droite and in route back to the main drag, I came across a different kind of place. It had a rustic, rather than polished, look about it. Also, the window seats were not packed with overly eager diners looking like they were squeezing every once of pleasure from the day. I took a chance and went inside.
There were only two other diners, two young French woman with a baby. I picked a table and a tall young man came over and asked me what I felt like eating.
"Voulez-vous le boeuf ?"
"Qui," I said.
"I take care of you," he said. I liked the way he said it; it was a kind of personal guarantee.
The place is called Les Fondus de la Raclette, 19 Rue Joseph Dijon; the specialty is savoyardes. Only a few places in Paris do it, explained Marcos the waiter. The idea is that you cook your own meal right at the table.
Marco turned on a small grill at the side of the table and soon brought me a bottle of wine, thin-sliced raw beef, a cooked potato, and a salad. The trick, he said, is to keep the grill loaded with meat so that some is always cooking. You get a selection of seasonings to use. If you don't like the way it is cooked, it is your own fault.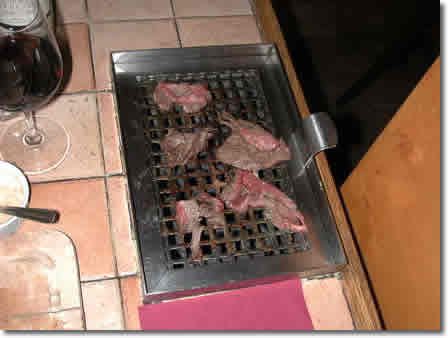 It turned out to be good fun. Marcos came over and talked. He was from Barcelona and came to Paris only four years ago.
"I didn't speak a word of French when I came," he said. His trick for leaning was reading children's books.
"Lots of pictures," he said.
The baby started fussing and one of the woman picked it up. It did not help.
Marcos said he was an artist but did not live in Montparnasse.
The baby was now crying non-stop. I looked over. I did not see what the problem was. It seemed to have everything: a nice carriage with a mobile dangling from the top and pacifier in its mouth. It looked well cared for. Soon the two woman were leaving. The one with the baby apologized when she passed by my table.
"Ce n'est pas un problème," I said. I meant it. A crying baby was reality, and she seemed to have her hands full with the unhappy little person. I know how it is. A baby can hold its parents hostage in a restaurant. Instinctively I think it knows it has got you where you cannot fail to respond.
"Peut-être il est le futur président," I said.
She laughed.
So I had found an artist in Montparnasse, although he was working in a restaurant. And maybe I had seen the future president of France, or listened to him cry anyway. I rode the subway back to my sex-pot neighborhood. I felt happy.
Paris Jazz
In the evening I headed over to Autor de Midi on Rue Lepic, which features jazz in the Cave a Jazz below the restaurant. I got a nice greeting when I walked through the door. The waiter, a budding actor— we are all a budding something, aren't we?—said, "The journalist from San Francisco." I was a little surprised he remembered me. We had talked a little before on a previous trip.
I paid the cover—12 Euros—and descended to the cave. Actually there are two caves below, or maybe one cave divided in half, the performance area on one side, the bar on the other. The performance area was packed so I headed to the bar. I had a feeling about the woman tending bar there.
"Know Steve Croce?" I asked.
"My best friend," she said.
On my previous visit Steve was filling in at the bar, he explained, for a friend. He is a singer and an actor. It occurred to me that I was talking with his friend. Go to Paris to get that it's-a-small-world feeling.
I saw Jack Daniels on the shelf in back of the bar and ordered it on the rocks. If my recollection is correct, last time they only had beer and wine at Autor de Midi.
The performance on the other side of the wall is projected onto a screen at the rear of the bar side. I began to watch and listen. It is the Stéphane Spira Trio, Stéphane on tenor and soprano saxophones, Mauro Gargano on bass, and David Georgelet on drums.
They are playing very minimalistic when I come in.
A few
whispers of the sax

A plung
or two
from the bass

a ching
on a
cymbal

But now the sound grows. You can almost picture a blank canvas filling up. It is hard to describe. It always is with words. But now the sound has become a big collage, one instrument responding to the other. It is spontaneous, lacking the usual patterns that can emerge with the presence of piano or guitar. The absence of an instrument that spells out the chords can challenge the players to new levels of spontaneous interaction and sensitivity. That is the case here. The more I listen, the more fascinated I become with the sound.
Later I talk with Stéphane. This is a new group that he has put together. He has a CD that is just coming out. It is his first, I believe. It is good but it is not this group. It is a larger group, with flugelhorn and piano as well. He says he is quite happy with the CD but that the current group is a new direction for him. If it is a new direction, I tell him it is one I would stay with. They played some of the best stuff I've heard in the last two years. The only group I have found as interesting in recent times is a group put together by bass player and composer Marcus Shelby in San Francisco with tenor saxophone player Evan Francis. They can also fill a canvas, both big and small, either with a few sparing notes or a whole barrage. And they play off each other in a way that can only be done by musicians who are connected.
The Cave à Jazz is unfortunately not a sidewalk cafe, but now at lease I have found something. Had Enrico Bancucchi done his thing in a cave, perhaps I would have found what I was looking for, and there would be jazz-cave imitators all over San Francisco today. Come to think of it, the original Hungry i was in a kind of basement cave. So, I think, was the Purple Onion.
Salut, Enrico! Et Merci pour cinquante grandes années. You would love this cool gray city of sidewalk cafes and Caves à Jazz.
Home | City Notes | Restaurant Guide | Galleries | Site Map | Search | Contact