San Francisco is mostly a wonderful place but now and then you have to get away. I used to take off and go anywhere—Mexico, India, Nepal, Pakistan ... But now that I have a daughter who lives in Spain, I drop in on her. "Hola, hija, what's for dinner?"
Before my latest trip, however, I got a little advice on places to visit from folks in the restaurant and bar business in San Francisco. When I asked Marco Dionysus of Enrico's and Harry Denton's Starlight Room fame about bars in Barcelona, he grabbed my notebook, drew a street map to a place named Boadas, and wrote in my notebook, "DO NOT MISS."
I also asked Pierre Cline, manager of Cafe Bastille, B44, and Plouf on Belden Lane, about places in Paris. On my return trip I had a twelve-hour layover in Paris, from 10 PM to 10 AM. He suggested Le Cafe du Commerce in St. Germain. Danielle Garnier had a suggestion for after-dinner entertainment: Pegalle. I had said I was interested in an all-night jazz clubs. He told me I would find that there and more. More? I didn't ask. While I was mainly going to visit my daughter, a night in Paris sounded like fun.
The trip from San Francisco to Paris is a long one, and approaching Paris it looks gray and indistinct. Soon I'm on another plane, headed towards Barcelona. Barcelona from the air looks colorful and precise, as though everything has been lined up in the most interesting way, not by city planners but by artists.
Soon I'm on the ground and the "kid" is there with some friends to pick me up: Sandra and Toni Maura and Antonio Vidal Prat. We head north out of Barcelona towards the Pyrenees and the town of Puigcerda. It is a fairly gradual ascent into the mountains on good roads. It is January and the landscape is dead. We are looking at browns and grays. I will see the same landscape for the next week.
There is rock everywhere. Chunks of it in the fields and giant slabs of it in the mountains, some it jutting up in grotesque formations. And houses and bridges and fences are made of it. Even storage "sheds" in a field are made of it. As we get further up into the mountains I see snow on the tops. But I'm told there has been a lack of snow this year, disappointing skiers.
Finally we arrive at Puigcerda, a town that dates back to at least the 13th century. The streets of Puigcerda are winding and narrow.
My daughter and her friends think that a person of my years must be tired. I am forced to take a nap at my daughter's apartment in the old downtown section of Puigcerda. Then we are off, Antonio driving us in his white Mitsubishi jeep, to dinner at Estacion just outside of town. It is good simple Spanish food with many kinds of sliced sausages and cheese, and I am introduced to Sandra's favorite drink, a refreshing green-apple liquor served cold. But the best food is to follow. Sandra is a sly gentle young woman with a raucous laugh and a touch of fire in her hair. She is a native of Puigcerda.
She has some time off from her job at one of the hotels in town, so the next day she drives us to Villefrache across the border in France. This is an old fortress with a city within it. As it turns out, most of the places inside are closed. We walk around a bit but decide not to eat at the one open restaurant.
We head back down towards the Spanish border. I am still amazed looking at the landscape. It is a landscape more dead than I have seen before. Almost all the trees are barren and the grass is bent over and brown. It is not like winter in California where there is still lots of green.
I am beginning to get hungry but don't spark much real interest in eating with the "girls." There are only a few restaurants in the small towns along the road, and most seem to be closed. I would love a glass of wine at this point even without food. I get Sandra to stop in one town where there is a sign for a restaurant. As we pull up to it, she seems pleased to announce that it is closed. Then, when I have almost given up the idea of eating, my daughter pulls out her cell phone and makes a call.
"Abierto?" she asks. There is a pause while she listens. "Si, bueno," she says. She hangs up.
We are off, she says, to Lliva, a Spanish town in France.
"How can it be Spanish if it's in France?" I ask.
"It just is," she says, as though speaking to a dummy.
Apparently a battle was fought there years ago and the Spanish won. These days no one feels like a rematch, so it's considered Spanish.
Sandra now seems excited. They both know this place. I think they knew all along where we were headed but wanted to see me squirm.
As we enter Restaurante L'Olla, the place comes alive. We are its only customers at 3:00 in the afternoon. A barman appears from somewhere, a waitress from somewhere else. Glasses of Vermouth, made by the restaurant, are placed on the table, and the cook, in white attire, slips into the kitchen. Vermouth, as I come to find, is a favorite aperitif in this part of the country. It is often referred to as a "Martini," because it it is often made with Martini & Rossi Vermouth, but I find that the best and richest is homemade or a Spanish brand, Yzaguirre. The preferred way of serving is in a collins glass with two cubes of ice and a slice of orange.
Within minutes beautiful plates of food are coming out of the kitchen:
Primero: Pastis de patata, amanida de formatage de cabce (photo below) , and "prawns & pasta";

Secundo: Folet de vedella a la planxa, carpaccio de filet de vedella, and xai de Cerdanya;

"Desert": Gelats, biscuite de jijona amb salsa de xocolata, and caleta.
The menu is in Catalan, not Spanish. In this region the three main languages are Catalan, Spanish, and French. Catalan looks similar to Spanish but the sound can be quite different.
This was beautiful food; this was lovely food. And I, who am from San Francisco, where only three things are holy—food, booze, and books—was most pleased. The Deity, if the Deity eats food, would have been pleased.
I was also beginning to pick up on the nature of sly gentle Sandra. She had steered me clear of the mediocre places while peaking my appetite. Then just at the moment when my good humor might have gone bad, she comes up with the most wonderful treat to be found. Afterwards she looked pleased with herself, as only a sly gently person can.
She also grabbed the bill and refused to let me pay. This was something new to me: A woman who actually wanted to pay the bill when it was large. I was definitely in another country.
The next day found us again in France with Sandra, at a castle in Foix. The castle was closed, however, so we proceeded to a restaurant in town, where we had "Martinis," mounds of fries, steaks, and a lot of red wine. Closed castles and fortresses are the best kind. They leave you with more time for lunch.
On the way up from Barcelona two days before I had noticed the construction cranes. They were being used for building houses and they seemed to be everywhere. I also noticed them on our trip to Foix.
Later in the evening at the wine bar in Puigcerda, Mariona, another of my daughter's wonderful friends, explained it to me. It's the old story of development and second homes. It seems that people with money from Barcelona like to have a second home up in sky country. It's like what you see in California in places like Big Sur and Mendocino. Mariona said that no one liked it but there was no way to stop it. I said that there were laws to protect sensitive places and protesting development was almost a way of life in California. "We are about thirty years behind you," she said. In Cerdanya, the region around Puigcerda, there are no laws to help protect the land from development. Money rules.
On Wednesday we take it easy, resting up for a dinner that Sandra is preparing. She wants to show me a variety of local dishes. At three we go over to La Vila Restaurant in Puigcerda for late lunch, then rest our stomachs for Sandra's feast. I have Orada al forn a l'estil casero, which is a fish dish with tomato and onion topping and thin-sliced potatoes below. I think it is the first time I have eaten anything but beef and it is a nice change. There is only one couple in the restaurant and we are the only customers by the time we leave. Conversation is easy and natural, it flows like the wine, and with these long meals I'm losing any ordinary sense of time. It is merely lunch time or dinner time, starting with an aperitif and ending with coffee.
At about 8:30 Antonio, quick, nimble, and the perfect gentlemen, comes by to pick us up for the dinner at Sandra and Toni's. They have an apartment in the newer part of Puigcerda. Sandra is in the kitchen when we come in and Toni hands us all "Martinis." Then Sandra comes out and offers both cheeks for kissing. Toni, strong as a bull and of melodious voice, smiles and does the same. I like the open demonstrative nature of these folks.
They have a big wood dining table in a nook of the living room. The apartment is very beautifully and carefully furnished. It is not cluttered like my own. We take our places at the table and the food begins to arrive. There are so many plates that I can hardly remember them. Plates with thinly sliced sausage, plates with anchovies, plates with olives ... There was of course beautiful rich red wine. But the glory of the evening was the main course: Pollo con cirvelas, peras, pinones, and tomatos—chicken with prunes, pears, pine nuts, and tomatoes. Sandra should have her own restaurant, Restaurante Sandra de Cerdanya. It would give it at least five stars.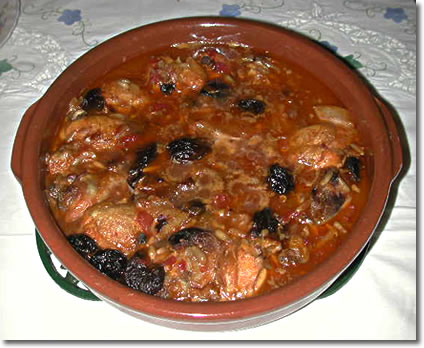 There was dessert of course, there was coffee; there were more drinks, even Champagne, I think. There were toasts and my awkward Spanish caused much mirth, as only something raw but heartfelt can. There was much conversation, some of which I understood. When I didn't it was at least interesting to listen to the full rich passionate sounds of the language. It was truly La Comida Fantastico. I believe I backed out the door when it was over, bowing in respect to the chef. The woman with the touch of fire in her hair looked pleased with herself.
And me? Well, I didn't really deserve this. Why God had granted me such a feast and such beautiful and youthful company I will never know.
The next day found us visiting a 10th-century church in Pedra. It is up on a hill in farm country and of course made of stone. It reminded me of some of the adobe missions in California, but of course it was much older and better preserved because of the stone construction. It was also of a small scale, which made it feel personal. You could picture actual people there long ago. The hill on which it stands is still a place of quiet. From there you can look out over the valley. Stand for awhile and you see generations coming and going, living out the story of their time, then gone from the earth. It is a sad feeling but a holy one. And I'm ready for a drink and some lunch. I don't want to feel sad today. The snow is fresh on the mountains and the sky is clear.
From Pedra we head back up to Puigcerda, then cross the border into France. We are headed back to Llivia but to a different restaurant, Formatgeria de Llivia. Along the way I notice the big rolled "bails" of hay and the stone fences in the fields. The fields are wet and brown. There is almost no green anywhere. Yet all is very fertile looking.
Formatgeria de Llivia is spacious. Out the big windows and across the valley you see the snow on the hills up in the mountains. There is just one other couple dining. We seem to pick the perfect hour for service. The owner comes over and we talk about Martinis. They have Yzaguirre. We order two and a cheese plate appetizer.
Formatge, if you don't know, means cheese in Catalan. La Formatgeria specializes in cheese and beef. If you like these products, you are in heaven; if you are vegetarian, you are in the other place.
A platter of cheese arrives ranging from mild cow cheese to blue goat cheese. We work our way from mild to strong.
Then we examine the menu. It is both in Catalan and Spanish. On one side it lists traditional plates, on the other, alternative ones. We go for the alternative ones. I order (Catalan) Filet de Boe amb verduretes i salsa de gingebre, my daughter orders Glates d'iberic amb moniato I castanyes.
Mine is strips of beef and vegetables with a ginger salsa. The glates is the meat from the cheeks of the cow. The glates is as tender and flavorful as a stew. With this we drink a bottle of Mauro 2002 Tempranillo from the Castillar y Leon region. I like the Spanish wines very much. They are intense and flavorful. I am surprised I see so few of them in the United States.
For dessert we split a chocolate fondue with assorted fruits, one of which is new to me, a large red grosella berry. It is about the size of a California Holly berry but has the color and translucency of the Red Huckleberry.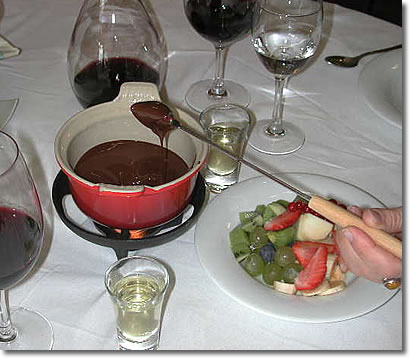 Here each dish we ordered is distinct and wonderful. While they do not hit us with a lot of food, each dish is highly memorable.
Now you may be wondering, did we talk while we ate? And if so, did we talk only of food?
Of course we talked, and we talked of things other than food. We talked about George Bush and the United States but found that not such an appetizing topic. We talked about Dick Chaney and oil and pollution. Ditto. Then we talked about my daughter's new boyfriend. That was a much better topic. Mostly I pay little attention to her boyfriends; they come and go like the season's of the year. But this new boyfriend of hers I found interesting. He's not Spanish; he's actually from Argentina. His family has two chocolate shops in Puigcerda. He has a rich sounding voice and a thoughtful manner and appears enamored of my daughter. I think he may be around for awhile. I guess I can say his name. It's Emiliano.
Most non-native Argentineans came from Italy and Germany. He is a combination of those two ancestries. He explained to me: "There are no native Argentineans now. They killed them—every last one." His voice is sad.
On Friday we took it easy and stayed in town. We looked at the Tower, all that is left of the destruction of the church of Santa Maria during the Spanish Civil War. Much of the town in fact was destroyed in that war. We walk around the frozen lake. And we test a technique we have come up with for making quick decisions about restaurants. We go into a place at the end of town by the lake. It looks good outside with a nice well-lettered sign but we are not so sure. We order "Martinis" at the bar, then watch the food that comes out of the kitchen. In fact, we can see right into the kitchen from the bar. We agree that the chef doesn't look any too bright. My daughter mentions the inbreeding in Puigcerda; she claims that explains the somewhat high number of dim-witted people there. The chef truly appears to be one of them. Looking from table to table we mostly see fried potatoes and sausages. We decide to pass on this place with the well-lettered sign.
She remembers a place down the street on the edge of the hill overlooking the valley. We go to Braseria Sant Jori. The Sun is so bright we get a table back in the restaurant where we can nevertheless see the snow-capped mountains across the valley. The food is good, the pace slow. So slow in fact that eating is beginning to seem more like dreaming. At some point in the meal, Emiliano, on break form the chocolate shop, shows up for a visit. He is a welcome interruption to our food-dream.
On Saturday Antonio loans us his jeep and we drive down to Barcelona. I'm leaving for Paris at 3:30, but that leaves us time to visit the Basilica. It is huge and the sound of the organ is unearthly and beautiful. It almost brings tears to my eyes. It is kind of beauty that I have forgotten about. Then we take an elevator to the roof and stand on top of the Basilica and look out over all Barcelona—towards the Mediterranean, toward the hills, and all over the city. I am awed with this vision. We are no longer staring at plates of food and it is inspiring.
There is not much time left now but we go in search of the famous Boadas bar. I have the map that Marco drew. At Ramblas we catch a cab towards Playa de la Catalunica. Boadas, according to Marco's map, is on the street before the playa. It is very crowded in the streets, as it is Saturday, but the driver gets us there. We start to wander down the street looking for Boadas when my daughter looks up and spots the sign. Boadas is right on the corner.
It is mostly dark wood inside and the shape of the room, due to the corner location, is triangular. There are only a few customers. We go to the far end of the bar where there is no one and the bartender, hair slicked back and dressed in a tuxedo, comes over. His name is Albert Monterrat. When I tell him that his bar is famous clear to San Francisco, and that I'm pleased that we were able to find it, he opens a cabinet and gets out a book. I don't know the title but it contains recipes of cocktails as made at Boadas. It is an old cloth-covered book and the pages are not slick as in the books on cocktails that you see these days, but it has good color pictures of drinks. The original owner or the bar was Miguel Boadas, Albert tells us. His daughter, Dolores, now owns the place. They are famous for mixing drinks by tossing the fluids between two mixing glasses. Albert suggests a Manhattan and demonstrates. The trick is using two really large mixing glasses. The Manhattan is one of my favorite drinks. I feel at home.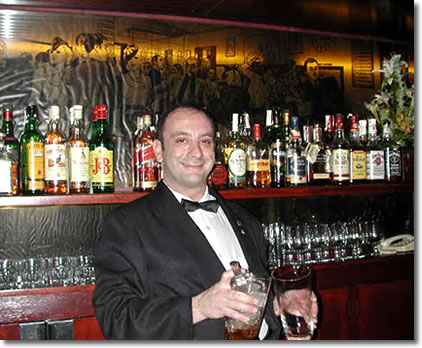 This trip is much to quick. Adios, Barcelona. My daughter drops me off at the airport and I'm off to Paris.
I arrive in Paris at Charles De Gaulle airport at 10 PM. I have a 12-hour layover. I get a cab and head to St. Germain on the left bank of the Seine. I notice the weather change from Barcelona to Paris. It is cold here and it is a wet cold. The Mediterranean climate is but a dream now. My driver, a pretty young woman with lots of curls, ask what route I would like to take to Rue du Commerce. She does not seem to know the way. "Vous etes l'expert," I tell here. She calls her dispatcher for directions, we talk a little till my French founders, then she talks on the cell phone with a friend. It is the same everywhere. Women connect emotionally with their cell phones. Guys sit in the dark and think.
I have dinner at Cafe Rue du Commerce, a three-story brasserie that is much less glossy than on the postcard that Pierre Cline gave to me in San Francisco, along with a message to his friend Etienne who works there. I get a table for one, not always the easiest thing to do on a Saturday night, and think I order pollet (chicken). A little later a steak and fries arrive at my table. It is such a beautiful little steak that I accept it happily. There was once a time when my French was good enough that I could order poullet and that is what I would get. C'es ne pas tres bein, or something like that.
I ask the waiter if there is an Etienne there. "Qui, Monsieur." Soon Etienne arrives at the table. It turns out he's the Maitre Di'. I am really very tired at this point, so I just hand him the card from Pierre, which he studies for awhile looking confused. Then he smiles slightly and says to tell Pierre hello. I don't try to converse. I have fulfilled my mission of delivering the card. Etienne departs. I look around at this restaurant. Though it doesn't gleam as it does on the post card, I like it. It is comfortable and the food is good without being fancy.
Even though I'm very tired, I get a taxi and head for Pegalle. This time my driver is an older woman who speaks some English. She is curious that I want to go to Pegalle. She says she doesn't think there are any jazz clubs there.
"What's there?" I ask.
She looks at me in the mirror.
"Sex, sex shops," she says.
"Sex shops?"
"Yes, you know, woman," she laughs.
Even though it is now cold and rainy, the streets in Pegalle are choked with cars and people. It is a little like North Beach in San Francisco on a really bad night. She tells me to watch my wallet if I go into any of the places.
I walk the boulevard for awhile till I'm miserably cold, then go into a cafe and get a Jack Daniel's and a coffee. I warm up a little as I watch the swarm of people, mostly young, walking the streets. It is not the gay Paris that I once briefly knew. It is Les Miserables, it is a wind that cuts through your clothes, it is greasy puddles and scraps of paper. The postcards do not shows scenes like these.
Nevertheless, I am feeling a little warmer now and I think: I have come all this way and it would be a shame not to do or see something. There are no jazz clubs in sight (what year did Danielle visit Pegalle?), so I go to see what there is to see. It is a poor reporter who doesn't report something.
As I approach X Oh!, a young woman lures me in for a 10-Euro admission that includes a drink. Not much to lose there, I think; and I'm pretty savvy about the sex industry, at least in San Francisco, so I don't think they are going to pull anything on me. Maybe I can compare, discover something new.
Inside there is a kind of stage and a heavy-set black woman, her breasts exposed, is gyrating around it but clumsily, as though she is drugged. There is nothing appealing about her act. I sit down on a couch in front of the stage—it is as if the place is filled with home furniture—and order a drink. As expected, a "girl" shows up shortly and asks me my name and where I'm from. I offer to buy her a drink but tell her I'm on my way to the airport. The black woman is now gyrating around the couch near my shoulder bag containing my wallet. I don't trust her. I move the bag away from her reach. My "girl" removes her top and does a little dance on the stage to show me her stuff. Then a bucket of Champagne arrives and I'm beginning to feel uneasy. There is some kind of misunderstanding. I tell her I'm not buying her Champagne and that I'm headed to the airport. She calls the manager, who asks me for 200 Euros. I tell him no, I'm leaving. He blocks my way. I tell him to get out of my way. He doesn't budge. I look him very hard in the eye and tell him I'm going to go right through him if he doesn't move. He says let's talk. I tell him I will pay 20 Euros for the drink for the girl. He wants 80. I tell him 20 is it. Does he want the police? He finally says okay. I tell him to move away or I'm not touching my wallet. He moves about five feet away and turns around so I'm facing his back. I get out the 20 Euros and hand it to him. I'm out of the place. Stupid story, bad ending. I'm lucky. A little danger at the end of the trip. I go have another coffee then head back to the airport. I will try Pegalle another time. Sex is nice but I think there is more there.
Home | City Notes | Restaurant Guide | Galleries | Site Map | Search | Contact