IT'S ALWAYS CHRISTMAS when you hear Eric Shifrin play the piano at the Laurel Court in the Fairmont Hotel on Nob Hill. He doesn't wear a red Santa Claus outfit and have a long white beard but he does have magic in his fingers. When he plays he casts a spell. The Laurel Court was designed by Julia Morgan at the turn of the last century but it was not until Eric started playing there that the design was really complete.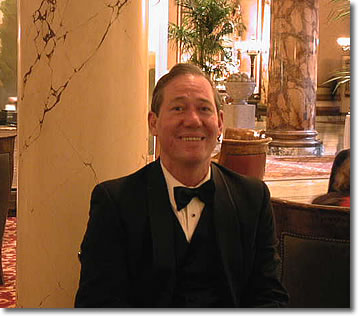 "What is the trick?" I asked Eric.
"Not too loud," he said.
That is being humble. The trick is a magical medley of songs that grabs the heart, each in a different way. Listen to Stardust, Once in a While, Tenderly, As Time Goes By ... and you will have lived a lifetime of emotions. You will have been to ten classic American films and relived whole periods of our history. Your heart will have expanded, your mind will have floated in space ... and you will be ready for another cocktail, followed perhaps by dinner. Norman the bartender can make you a terrific Old-Fashioned, and the Laurel Court Restaurant is handy if you feel compelled to eat.
Eric can also be heard regularly at the Washington Square Bar & Grill and Enrico's, where you can also catch him on New Year's Eve. He has a new CD out called As Time Goes By with the classics he plays at the Fairmont.
NOW IF YOU want to skip dinner and just keep on drinking, you can always go over to Harry Denton's Starlight Room on Sutter and Powell, where Marco Dionysus presides as bartender and master mixologist. You can also see those dazzling people who are living the high life, or at least think they are.
The Starlight Room is a real cocktail bar. The starlights may be phony and their dates
stuffed shirts but the drinks are the real thing.
Marco can concoct about anything. A lot of bartenders in San Francisco can. We're that kind of town. But what is unique about Marco is that he works on inspiration and is lightening fast when inspiration strikes.
I arrive early in the evening before the bar is jammed. He asks me what I want.
"Why don't you just make me something," I say casually. I like to hand him the reins. I've never been disappointed.
He thinks for a moment, then upside down bottles begin to rain ingredients into an ice-filled shaker. He is part bartender, part magician, part alchemist. He dumps the ice and water chilling a big Martini glass and strains the drink into it.
"What is it?" I ask.
"No name yet," he says frowning.
A cocktail is born. It is nearly Christmas in the city and I'm witnessing the birth of not our savior, the Lord Jesus Christ, but something our savior would surely have appreciated. If only he could have presented some of these drinks at the Wedding Feast at Canna he might not have needed so may parables to convince those stubborn desert people. The light would have come on in their teeny brains; they would have understood.
So this time the ingredients are ginger, Stoli, Applejack, and sour mix. The sour mix is fresh, made by Marco, and consists of lemon, lime and simple syrup.
The drink, though a lovely looking ginger-colored cocktail, is very satisfying. Your average starlight would probably order a Cosmo or a Mudslide; Marco's drink is more meant to be drunk than to be photographed with.
Part of what makes this drink satisfying is the simple layering of flavors: ginger and apple but predominately ginger with these flavors swimming in the vodka. It is shaken hard, not stirred, so that small fragments of ice float in the glass. It is glassy and beautiful without being gaudy; you could marry this drink and live happily ever after.
Marco does a variant on the drink with pear brandy from Oregon. It is very good also but the better version is the first with Applejack. The problem with the pear brandy is that it seems to draw attention away from the ginger. We compare the Applejack to the pear brandy, noting the complex aromatics of the pear brandy. Sometimes simplicity is best.
Maybe another factor in choosing simpler aromatics is the special smell in the bar this evening. The beautiful woodwork has just been varnished, but building rules do not allow opening a window. Apparently starlights or their dimwit dates have dropped champagne glass out the windows in the past. Sutter and Powell is a busy corner. Varnish is not one of the finer smells but it does make you a little high. Should that be added as an additional ingredient to this drink? Probably not but maybe an open can of varnished should be placed next to customers when they order this drink to get the full effect.
An environmental factor to consider with this drink is the Starlight Room itself. It is a classic. The woodwork is lovely, as is the glasswork and all else. It was constructed in the days when men were masters of their tools and build beautiful things with them. You will be thinking you are at the Hearst Castle in San Simeon. Apples, pears, brandy, ginger, vodka, an assortment of cheese, some Camembert included, of course, maybe a fine cigar. You are in heaven or as close as you are going to get to it while still living in San Francisco.
OUR TOWN? Right now I'm thinking of Grover's Corners and not San Francisco. You can see it, the play, that is, at the San Francisco playhouse. I didn't think I was going to like this play. Then when I saw it I was blown away. Why, I asked myself. I asked the same question, the theatre now empty and a bit cold, to Bill English, artistic director at San Francisco Playhouse. He is working on casting for the next play and doesn't have a lot of time. He gives me a hard look.
"Because it is a great play," he tells me.
But that doesn't really answer my question. You see I read the play beforehand and, while I found some of the lines interesting or amusing, I was not really moved by it. The scenes seemed like stereotypes of American life at the turn of the last century. And the Stage
Manager's little speeches seemed slightly didactic. (The Stage Manager is a character and part of the play, if you don't know. The play is performed on an almost empty stage.)
Apparently other people have had this opinion over the years. Even author Thornton Wilder had some reservations. But seeing this on stage was a whole other matter. Bill English loosened up and offered me a little more.
"It grabs the heart," he said.
Grabs the heart indeed. It performs open heart surgery and has you leaving the theatre stunned. Something about this play works like a hammer in the hands of a master carpenter driving nails. It leaves you reconstructed.
Any reason to analyze this further? Maybe not. But let's do it anyway. Cheers!
After I read the play, but before I saw it, I said to myself that nothing seemed substantiated. At the end when Emily has died and has gone to "Heaven" she says of those on earth, "They don't understand, do they?" Don't understand what, I kept asking myself a little perversely. "What is it that you understand, Emily," I asked.
But it is not really about what they don't understand. It is about the fact that they are all wrapped up in activities that prevent understanding. They are like so many starlights with glasses of champagne and social agendas.
Anyway, after the play I see clearly enough to walk over to Zingari's Lounge, order a Kettle One, and start writing some of this down. Kettle One clears my mind like nothing else. Or at least I like to think so. I'm in the Christmas spirit, anyway.
Home | City Notes | Restaurant Guide | Galleries | Site Map | Search | Contact