Winning feels good, especially after losing. I have recently been on a losing streak. But all things come in cycles, even as the lout knows. Faith tells you and the lout that you've hit bottom and will soon rise again. And if the cycle is a long one and you fail to detect that the turning point is imminent, then you can turn to those you like and enjoy their successes. The lout, the mooch, the deluded idler do this all the time. Why not you and me? Which is a long introduction to something you might like to know.
Dave Nepove, head bartender at Enrico's and a guy with one of the most powerful smiles I have ever seen, won first prize in the Fourth Annual Chartreuse Competition held at Amante in North Beach. Dave, like me, is not big on competitions. But he decided to enter anyway. They needed some "quality bartenders" to participate. Dave is definitely one of those. Moreover, a friend had been bugging him for the last four years to enter. One other factor: He just happened to have Monday night off, which is when the competition was held. And, yes, there was this too: "I had recently gone to a Grand Marnier 'think tank' and I had Grand Marnier on the brain. I had already been working on a cocktail but I didn't know what I was going to mix with Chartreuse."
Grand Marnier is naturally what worked. Have something "on the brain" for awhile, and it is the thing that you are going to use. Ideas, thoughts, words—it is all the same. They will show up in your next story, conversation, insult, whatever, just as surely as Grand Marnier showed up in Dave's cocktail. How do you think carrots showed up in carrot cake? Or zucchini in zucchini bread? Now here's the drink: 1 oz. Grand Marnier, 1 oz. green Chartreuse V.E.P., two orange wheels and one lime wheel muddled to a pulp with ice. The mixture is shaken and poured into a cocktail glass. The drink goes down easy, unlike some cocktails that require a few initial sips until the pallet adjusts; in bartender language, it is very "drinkable." The muddled orange and lime make it fresh, fruity, and sweet without too much citrus. The V.E.P. (Vieillissement Extrement Prolonge) Chartreuse is herby and, at 108 proof, "hot". The Grand Marnier, being cognac-based with orange peel, seems to reach out and tie the drink together. Dave's award-winning "product" is the Gran Garnier. It's on the specialty list at Enrico's. You could order it next time instead of a Mojito or Caipirinha. The bar staff would appreciate that. They are little tired of those drinks so popular with the young set. And the Gran Garnier is a great drink. You will feel like a winner, and not a loser or a lemming, when you sip it out on the big patio at Enrico's.

Know the Sports Bar on Leavenworth and Geary? That is a good place to go and be a loser. It doesn't take much. Just walk in and sit down and you will feel like one. Okay, I know, that doesn't sound very nice. At least there is energy there. And during the day there are plenty of customers. That is one thing I have learned about the Tenderloin bars. They can be packed right during the middle of the day. If you don't have a job but you do have a little money to spend on forgetfulness, why wait till the sun goes down? In fact, the deeper you go into the Tenderloin, the more crowded are the bars. Take Aunt Charlie's down on Turk. You are lucky if you can find a free barstool at 2 in the afternoon.
I was down at Aunt Charlie's the other day and the only free barstool was one three seats from the end, down toward the pool table. I took it. There were two heavyset, slug-like white guys at the very end on my right. On my left was an Asian guy with a black friend. They were having a quite, thoughtful conversation. On my other side, the two white guys, about sixty or so, were having a louder conversation. "Well, why the hell can't I call 'em niggers if they call me a gimp?" A "gimp," in case you don't know, is one of those politically unblessed terms for a disabled person. I look in the bar mirror to see if the black guy hears any of this. I'm not sure. I'm right in the middle and do not feel that comfortable. I decide to play it safe: "You're right," I shout at the two white guys, "absolutely right. It's a terrible word. It should never be used." They give me a strange look. And I'm out the door.
But we were talking about the Sports Bar, weren't we. Now it's not as packed during the day as Aunt Charlie's—the strange thing about Aunt Charlie's is that whenever you walk in it is like Friday night—but the Sports Bar has enough customers to afford being open. The clientele, however, is a little different during the day. It is more laid-back than the younger, pool-playing nighttime crowd of whites, Asians, and Hispanics. The other day there were two older white guys, one with a stack of CDs that they were going through and discussing. Vaguely strange. I had the impression that they were fencing stolen property but they probably were not. They didn't, however, look at all interested in the music. Then in came two black guys, not young, not old, dressed in dusty work clothes—it looked like they had gotten off early from a job nearby. Though not French, they at least had a raison d'etre. Arise, Lazarus, and laugh. Raison d'etre? Yes, and they are your brothers. They sat quietly and drank whiskey. Whiskey with Budweiser chasers. That is what the Sports Bars mostly sells. I ordered a Martini in the City that invented the Martini and had to tell the bartender how to make it. But it's different at night. Then they can make a Martini. And there is this: The guys, I have noticed, go into the women's rest room, which does not seem to be a restoom. More strange. Is there something back there I don't know about? Maybe it's a women's room of another kind. I ask the bartender about it and she looks the other way, ignoring my question. I ask casually about a couple of women who work there at night. They're still there, she tells me. I have some unfinished business with them. I would tell you about it but I don't want to feel like a loser right now.

Back to the good stuff, and there's still plenty of it in this town. On Friday it was the 9th
anniversary of Charles Unger and his group playing Les Joulins Jazz Bistro on Ellis Street. I'm skeptical when I hear anyone talk about the "real" thing, but I'm going to say it anyway. They play "real" jazz there. It is not synthesized and it is not a "light" version shrink-wrapped for popular consumption. Nevertheless, Unger's group has a following. "One things I wanted to do here on Fridays," says Unger, "is continue the tradition." For the last set, they break out new material, some of it composed by Unger, but for the first two sets they mostly play the jazz classics: Love for Sale, Autumn Leaves, All the Things You Are, Night in Tunisia ... The core of the group is Valencia Hawkins, vocals, Kenny Rose, piano, and of course, Unger, who plays tenor and alto saxophone. Bassist Jean Repetto and drummer Otto Huber are regulars.
Unger, leader of the group, moved to San Francisco in 1970 when he was 18 years old. He first visited the City in 1968 during the "Summer of Love." He stayed for a week. Then in 1969 he came for two weeks. He was hooked. A year later he moved to San Francisco. He played mostly rock and R & B back then. He can't pinpoint exactly when he started playing jazz but says, "It's always been in the background. It's one of those things you grow up playing in school. In school bands they try to throw in a couple of jazz tunes." Rock can be very seductive to young musicians these days, but Unger says it was his mom who kept him interested in jazz. "She loved Stan Getz." Unger is African American, and I began to wonder if his mom liked Charlie Parker and Miles Davis too, but I did not get around to asking. His father was an amateur singer and song writer. "Music was his dream," says Unger. Unger talks loose and relaxed, and his playing, which is lyrical, is like that too. It is eclectic. He can play funky R & B; he can be as lyrical as Coleman Hawkins at times; and when inspired he can rip like the young Charlie Parker.
But one person's background does not make up a group. There is also "Dr." Kenny Rose (the title is decorative only, says Rose) who provides a solid foundation without intruding. Playing low to the keyboard and with his head slightly cocked to one side, he is an acute and thoughtful listener while he accompanies others. Asked who his favorite pianists are, he says he is more interested in arrangers than pianists. He names the late Nelson Riddle, who did some of the best arrangements for Frank Sinatra. You know those upbeat, highly syncopated arrangements that make Sinatra sound like he is on top of it all. Sinatra is good but Riddle make him even better. Those arrangements make Sinatra sound like he never had a bad day in his life. And there is vocalist Valencia Hawkins who can sing Embracable You with such passion that you start getting ideas about embracing her. She, too, is a product of beneficent parental influence; early on her parents recognized her talent and started taking her to concerts. The group has two CDs coming out with original material—"Paris Calling" and "Nights Alone." They can also be heard at Rasselas over on California and Filmore. If you were brought up on Miles Davis, Cannonball Adderley, Jerry Mulligan, and Chet Baker by jazz-loving parents, you are going to like these folks. They continue the tradition. Now back to the bad stuff.

I suppose I'm being punished for some evil I did in a past life, as there is no other way to explain this. About six months ago I got new neighbors. They came from Hell. I'm convinced of it. They probably made too much noise there, slammed too many door, dropped too much stuff into the rocky abyss and finally Satan evicted them. At first I'm sure they protested the eviction and even thought about suing; then slowly they realized that it was a blessing in disguise. They were free to leave as long as they agreed to keep a certain distance from the muddy gateway that lead down down down. A week later they rented the apartment next to mine. Two weeks later they had a Hi-Fi, a hammer, a bowling ball or two, and a TV. They were fully armed.
As they did not have parents with taste in anything, let along music, they chose rock & roll as the medium for their Hi-Fi. They liked the simple, repetitive lyrics that sometimes consisted of only one or two words—"Need you, need you ... need you tonight, tonight, tonight"—but better than that was the nice bass that went boom boom boom boom right through walls, right through floors, right through just about anything. It was better than a motorcycle without a muffler. No wonder Satan had asked them to leave. There was honest torture, and Satan had no problem with that. Then there was boom-box rock & roll with subwolfers that sounded like end-all nuclear depth charges. If Bush wants to go after terrorists, there are plenty right here in the City. They are not hiding, and no one would say a thing if Bush's men broke down their doors in the middle of the night and shot them all dead.
Okay, I'm dull and pathetic. I'm not into noise. I'm not into slamming things. I know that I would feel like an important person if I slammed things around more and if I shouted uninteresting combinations of 10- and 4-letter words. But I was brought up to be considerate. It is my mother's fault, I know. She was a bad person. She played this stupid game called How Is The Other Person Feeling? She had this dumb idea that other people had rights, like the right to sleep at night, the right to park in their own parking spaces that they paid for, the right to ... Well, you get the idea. Blame it all on my mother. She just wasn't with it. But I may survive this anyway. You see, the Neighbors From Hell are moving. They got a notice from the landlord about rules regarding noise. The landlord also refused their request to adjust their rent to the sagging economy and provide a second free parking space for their second car, which is a truck. The landlord probably had a real drip of a mother like mine. I hope he makes it too. It is hard being dull.

The good news from BeauCoup is that you can now eat there too. They have a chef. No more seaweed on your steak; no more vague, apologetic looks from a squirming waiter. When your dinner arrives, you will feel like eating it. The chef is Bruno Davaillon. Now if I were opening a restaurant in a pricey location like Nob Hill, I would have the chef and the food nailed down before I opened. First impressions are usually last impressions, as they say. At least in the restaurant business. But this is San Francisco, where ordinary logic is regarded like old bath water. Pull the plug and be gone with it. Common sense, six pence, & rhyme without reason. That's my city. Now in particular I would suggest the roasted garlic and herb chicken fricassee. Tres bon, monsieur. The tender meat falls off the bones, melts in your mouth succulent with flavor. You gonna like it. Comes with fingerling potatoes, chantrelle mushrooms, haricot vert. Wash it down with a red wine like a Pinot Noir to match the flavor. But before you do that you might want to have a drink or two. In that department, Beau Coup has never failed.
First, I would suggest you try the Casino. It is made with Bombay gin, lemon and lime juice, maraschino liqueur, and orange bitters with a brandied cheery and juice in a cocktail glass. The cheery juice, with the cherry, sit in the bottom of the glass, dark red. It is a lovely-looking drink,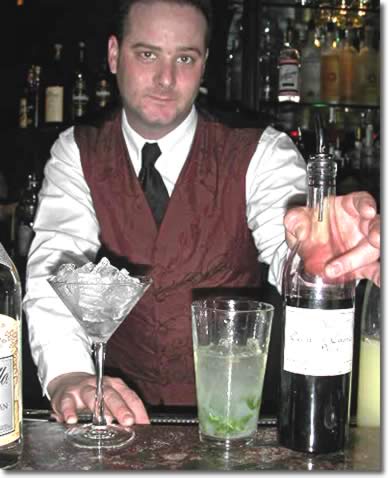 though I do not taste the gin over the lemon and lime. Second, I would try the French Daiquiri (top photo). This drink tastes as good as it looks. Says bartender Maximillian Francois, as he mixes the drink, "This is a variation on a classic Daiquiri ... We're taking the base spirit, which is rum ... We're using a nice Castillo rum, which comes from the Bacardi Distillers in Puerto Rico ... but before we add that we're going to lightly crush some mints in a pint glass with a few cubes of ice but not pulverize it entirely ... You want to get the essence of the oils and a little bit of the mint flakes that comes out in the finished product ... then we're going to add our spirit, more ice, about one and three-quarter ounces of rum and then about half an ounce of fresh-squeezed lime juice ... for our sweetener agent we're using Creme de Cassis ... we're going to use just a little over a quarter of an ounce of that and shake what remains in the cocktail glass and strain it, holding the strainer back just slightly above the rim so that a little bit of the mint flakes strain through and mixs in with the final product." (For the record: Both versions of these classic drinks are the creation of head bartender Marco Dionysos.)
The "final product" is as lovely as the Casino. It is light red, the color coming from the Creme de Cassis, a blood-red, black currant-flavored liqueur. Some mint flakes float on the top. And the nice things about this drink is that you can really taste the flavor of the rum in it; it is not overpowered by citrus. Now you may have noticed: Max at the bar sounds a lot like Julia Childs does in the kitchen. In male form, he has that same husky, confidence-inspiring voice as does Julia Childs. Mixing drinks is his business and he loves talking about it. With bottles, strainers, shakers, muddler, and shot glasses and other glasses spread out all over the bar, it is better than any cooking show. Who needs those dirty pots and pans you see in TV cooking shows? The night we talked BeauCoup was packed but Max kept his cool. With customers now beginning to gather around and watch, Max finishes up: "We're serving that straight up in a chilled Martini glass with a lime wheel." Give it a try. You'll love it. Then stay for dinner. Your waiter will now be able to look you in the eye when he says "bon appetit!"
Home | City Notes | Restaurant Guide | Galleries | Site Map | Search | Contact