Clement Street, traditionally an ethnic neighborhood, is fast gaining its reputation as San Francisco's New Chinatown. It has a long history of immigration, beginning with the Irish in the 1900s, followed by Swiss dairy farmers, the Jewish, Russians, Japanese and most recently immigrants from the Far East. Nearly half the residents today are of Asian or Pacific Island origin.

Stroll along Clement and you'll see that the array of produce shops, restaurants, cafes, and businesses lining Clement Street from Arguello to 25th present a definitive Asian presence. Clement is where visitors can shop for the same roasted ducks, ginseng, tropical durian, mangoes and star fruit as Chinatown, but also browse for old records, flowers and books. The streets are often filled with the hustle and bustle of visitors who come to sample dim sum, Thai, Persian, French or Burmese cuisine—or get a cup of coffee. "It has a highly Asian flavor," said Harold Baum, owner of the Clement Street Bar and Grill. "But there's a subtle difference. Chinatown connotes that all the businesses are Chinese, but the ones here represent a cultural mix."


Take a closer look and you'll find a few Irish pubs, a burger joint and a used bookstore nestled among the plethora of Asian shops and restaurants. Listen to the conversations on the street and you'll hear the music of Cantonese mixed with Spanish, for residents here speak at least 25 different major languages. Business is brisk along the street, attracting a large number of Richmond residents as well as young professionals who work in the area, said Baum, who hosts the Clement Merchants Association meeting every other month. On any given evening he may get a crowd of young Asian or Irish Americans in his pub, along with his core group of regulars.
"I love this neighborhood," said Ottilie Valverde, a resident for the last 33 years. "There's an aliveness here. It's full of life and wonderful people." She said what differentiates Clement from Chinatown is its international flavor. Sometimes she feels a little nostalgia for the days of the past—the lovely, German bakery, which used to be on Clement Street, for instance. The Asian presence began to get stronger about 10 years ago, she said, but she enjoys the color and culture. What concerns her most is the need for cleaner sidewalks and more parking spaces.
Yet parking is easier to find here than in Chinatown, according to Yen Chau, who works at the Java Source Coffee Shop. "No one's excluded here," she said, noting the diverse clientele who participate in the café's Open Mic. On a typical afternoon, patrons include teenagers chatting and hanging out at a table, chess players engrossed in an intense match and coffee sippers reading newspapers. The only difference from a decade ago? Most of their faces are Asian.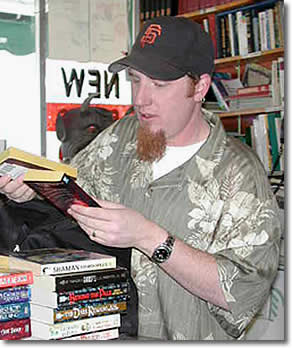 Some shop-owners, like Kevin Hunsanger (left) of Green Apple Books, characterized Clement as a destination spot for locals without the same commercialism as other parts of the city. Green Apple Books has been on the street for 35 years and is doing just fine.
"Clement is a Starbucks-free zone," he said. "You walk on Clement Street, and you'll find the people here are from the neighborhood. I can't walk down the street without running into someone that I know." Most of the merchants along the street know one another, he added, and the neighborhood retains a strong sense of community. "It's a special part of San Francisco," he said, "We may not have the same tourist reputation as Chinatown, but we have a lot of good shopping, places to eat and things to do." Indeed, not only can visitors try their turn at singing karaoke at the Club Hong Kong, they can catch a movie at the Four Star Theater near 22nd Avenue, which specializes in independent films from top Asian movie producers.
They can also smell the pungent odor of Chinese herbs piled into little bins and boxes from the Vinh Khang Herbs and Ginsengs shop. Khang, who opened his shop on Clement Street 12 years ago, hails from Vietnam. His small shop is full of hundreds of drawers, each with a different herb inside. Khang is proud to boast of his shop's one-time Hollywood fame, when actress Julia Roberts walked in to film a portion of "Dying Young." But he doesn't need to advertise his shop much. Through word of mouth, customers come from throughout the Bay Area, seeking his expertise on ailments ranging from chronic coughs to back pain.

The history of Clement Street differs greatly from that of Chinatown. The folks who settled in Chinatown are primarily immigrants from the Canton province of south China. Some arrived during the California Gold Rush, hoping to strike it rich. Those who live in the Richmond district come from later generations and the more recent wave of wealthy, Asian arrivals. During the 70s, many found the Richmond district appealing because it was a neighborhood where they could buy homes and raise a family.
According to the 1999 US census, 36.6 percent of San Francisco County's population is Asian and Pacific Islander. Of that percent, the Richmond district has the second highest number of Asian residents next to Chinatown, at 47 percent. Since the 1900s, Clement Street was a business district that attracted new immigrants because of the lower rent in the neighborhood. These days, many young professionals are also lured to the area because of its easy access to transportation and safety, according to Richard Klein of Klein Real Estate, which has been on Clement since 1953. Klein witnessed the evolution from the early 1900s,when the main businesses on Clement were French, then Italian, Irish, Jewish and Russian. Asian businesses began setting up shop on Clement to serve the demand of residents there.
The "New Chinatown" is a place that supports new trends and tastes. Johnny and Bianca Yau, for instance, brought their Taiwan-based business of tapioca milk tea (popularly known as Bubba milk tea) to San Francisco five years ago. Sweet Delite offers coconut and Taro-flavored tea shakes with tapioca balls at the bottom that customers slurp up with a fat straw.
The drink is trendy among the younger generations from Hong Kong and Taiwan, said Bianca (right), but would not be a hit among the elderly in Chinatown. It is also growing in popularity among the locals in San Francisco, both Asian and non-Asian, who are coming to the shop from Noe Valley and the Mission. The folks in Chinatown are more conservative, she said, and more traditional.
While San Francisco has always embraced the multicultural, there are always tensions when changes occur in any neighborhood. "People generally don't like change," said Baum, who grew up in the Mission, where his dad owned a grocery store. The Mission was primarily Irish in the 1950s, he said, before it evolved into the predominately Latino one that it is today.
Pinelli's Flowerland is an example of a business that has proved itself timeless. It opened on Clement Street in 1927. John Sellai (left), who has owned it since 1961,said it has managed to survive by adapting to the changing demands of the clientele. The biggest sales in February, for instance, are the red-colored quince and gladiolas that many Asians buy to celebrate the Lunar New Year. Then there are the universal occasions, like Mother's Day, birthdays and the moments when someone just wants to buy flowers for their loved one.
The daily hustle and bustle of Clement Street has a continually shifting face. The one constant is the humanity, striving to fulfill the American dream. It is the new Chinatown, home to many, and constantly evolving.