What do you wear to a nudist resort?
You won't see any signs on the highway reading "Best Nude Recreation in the West, 3 miles," yet in the thick of the Santa Cruz Mountains, just south of Silicon Valley, Lupin Naturist Preserve has persevered for 64 years. Announced by a small wooden sign at the top of a long, unmarked driveway, the resort occupies 110 sunny and unusually temperate acres. Even in winter, provided it isn't raining, Lupin's famous microclimate encourages visitors to disrobe.
While the term "naturist preserve" conjures images of botanical gardens and endangered wildlife, the only thing that's in danger at Lupin is what Lupinites refer to as the "overrated textile." The careful wording of the club's moniker is meant to dissuade the negative connotations attached to the more common phrase "nudist colony."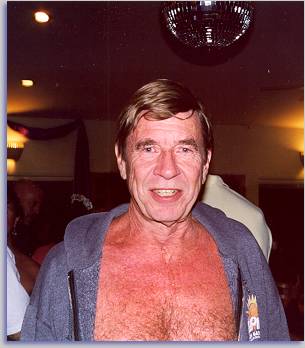 "We tend to forget that prior to 200 years ago, people on this continent didn't really wear clothes," says Glyn Stout (right), with a slight Texas drawl. It is a little chilly today and, Stout, Lupin's owner, is sporting shorts and a somewhat paradoxical Lupin-embossed jacket, unzipped.
Because it's a bit cold, the photographer and I are not required to take off our clothes like most first-time visitors. We start out on our tour, and I'm a little surprised when everyone we see is actually clothed as well. Stout shows us Lupin's lodge, restaurant, two pools and hot tubs, tennis and volleyball courts, 10 yurts (deluxe, semipermanent, tentlike structures), several cabins, playground and nature trail. He shows us an especially roomy yurt, where workshops on everything from "conflict resolution" to "extended orgasm" are held. Dances are also a favorite at Lupin.
"Let's go see if we can find some sun," Stout says.
Around the pool where we decide to sit, children are at play, apparently unafraid of the naked bodies reclining hither and thither. Nearby, a volleyball tournament is in full swing. It doesn't take too much investigating to realize that nudists are just wild about volleyball. One of the great cultural phenomena of our time is this union between volleyball and nudism. From my perhaps overcautious questioning, I am able to ascertain that this unabashed love of the sport is born of practicality. Volleyball is relatively safe--no sharp objects or quickly moving balls--and it includes people of all ages, sexes and abilities.
"Yeah, we all have bodies," says Eileen Cruz, a legal secretary kicking back on the sunny steps by the pool, a sarong tied elegantly around her waist. "Some are boys and some are girls...I think for a lot of women, Lupin is about body acceptance. Since I became a nudist in 1996, I feel like I make better choices, and I'm more comfortable with how I look."
While nudity is still synonymous with sex in the minds of some, the reality is that once confronted by the naked bodies, sex doesn't seem like the next logical step.
"The sexual connotation of social nudity can present an obstacle to some who are under the impression that nudity equals sexuality," says Jay, Lupin's comanager since 1983. "This is simply not the case...You can be nude and not sexual, dressed and sexual, nude and sexual, or dressed and nonsexual. It really isn't the nudity that is the issue."
I'll never forget how shocked I was the first time I visited Berkeley and saw a man walking down the street wearing only sneakers and sunglasses. He was slightly chubby. Nobody was paying attention, and I remember thinking that people in California must be used to this sort of thing. I also wondered what he was trying to say.
These days, society's fear of nakedness has resulted in nudity being wielded as a weapon or a political tool. Last July, for example, Dziewanna, a Polish actress, rode naked through Krakow to protest taxes. In that same month, three men and a woman were arrested in Vernal, Utah, for wearing only helmets as they bicycled for charity. And in August, a nude soccer fan in Blackpool, England, rushed onto the field, causing his team to lose a point. And everyone in Santa Cruz, Calif., knows about the bare-breasted bandits, ladies who stand up in the face of corporate power with catchy slogans like "I'd rather be bare then wear GAP!"
"For me, it's the freedom of not having to wear clothes," says Sterling Hoffman, a tan and totally naked young fellow who has joined us, probably figuring that in my corduroys and sweater I must either be a reporter or a dangerous maniac. Hoffman, a graphic design student who has been a member of Lupin for six years, leans against the fence as though he were at a cocktail party, a white towel thrown over his shoulder (nudist etiquette dictates that everyone carry and sit on their own towel).
"Since coming to Lupin, I'm more comfortable with myself and more comfortable talking to people. It really gets to the point here where it doesn't matter if you're clothed or not clothed. I have long conversations with people at Lupin and later can't remember if they were naked or not," Hoffman says.
Though not officially a "colony," there is certainly a sense of community at Lupin. I maintain nervous but steadfast eye contact while another member interrupts Hoffman's spiel about societal oppression. This launches Hoffman into an anecdote about one of the casualties of nude recreation. It might just be a nudist myth, but it seems this other member, who shall remain nameless, was enjoying the sun at a Lupin picnic when a yellow jacket stung him on the penis. In fantastic pain, the poor Lupinite had found relief by placing his afflicted body part into the ice bowl, "when another yellow jacket came and stung him on the ass." Hoffman giggles as the subject of his tirade, also nude, gives him a dirty look.
History Buff
The naturist resort, a politically correct term for nudist resort, has flourished for decades. Stout, who hopes to write Lupin's history someday, tells how Lupin was originally a winery, and a successful one at that, due to the spot's unusually warm climate. But a Mr. George Spray put an end to all that in 1936. He bought the property and hired a sophisticated photographer to develop a brochure featuring nudists in romantic, languid poses to promote what he had dubbed "The Elysium Foundation of California." It was during the Depression that the nudist movement, imported from Germany, took root in the United States, and Spray started what would become one of a dozen surviving resorts from the 1930s.
"Nudism started as a reaction to Victorianism and industrialization," Stout says. "People wanted to escape the dank, grim urban world and move back to nature."
There were only 50 members back then and, after two summers, Spray gave them sole ownership. They ran it as a co-op until the gas rations of WWII slimmed attendance down even more. In order to keep the dream alive, one of the members, a Frenchman named George Bouffil, and his wife, Paulette, bought the place for $30,000 and changed the vainglorious name to the "Villa Paulette." They decided to call the lodge "Lupin Lodge," after the rather phallic-looking flower, Lupine, that grows there in abundance.
In1949, Paulette had a heart attack and died; and George, heartbroken, left the Villa never to return. In the 1950s, the place was taken over by Sol and Toby Stern, who had made a bundle during the war with a taxicab franchise. Known as the King of the Marina and a volleyball aficionado, Stern simplified the club's name to "Lupin" and developed the place as a club. Membership grew from 100 to over 700. Ray and Ethel Plant (left) were Lupin's managers during the 1950s.
"Stern didn't like the American Sunbathing Association [an umbrella organization for nudists] because their promotional material was too provocative," says Stout. "They didn't really know how to market nudism back then."
Apparently, American Sunbathing Association pamphlets were the first nudie magazines, though not erotically focused, and its court battles over sending nudity via the U.S. Postal Service opened the door for Playboy and others.
"For the first 40 years, Lupin was more like a park then a resort," Stout says. Then came the golden age of the suntan. Back before people worried about skin cancer, Californians who loathed tan lines flocked to Lupin. For the record, the deeply tanned Stout thinks all the hype about skin cancer is puritanical propaganda attempting to keep people clothed, and believes his Cherokee blood protects him from any serious damage.
"After the excesses of the '70s, there was a right-wing resurgence," he continues. "The '80s and '90s were not kind to nudism." He pauses. "These days the word 'nudist' has very ugly connotations."
Stout, a former CEO for the Santa Clara, Calif.-based Synergex, a computer networking company, took over Lupin in 1977. Under his reign the membership swelled to over 1,000. The only setback came with the earthquake of 1989, after which there was a lot of remodeling to do. Stout is still in the process of turning Lupin into the best little nude recreation facility in the country.
When asked how Lupin has changed over the years, Stout replies: "Now it's more family oriented. 60 percent of the membership is made up of families. Also, these days it's less about idealism and more about recreation. But we still have a very humanistic philosophy that everyone is equal under the skin."
Lupin Wired in the New Millennium
Lupin has also moved into the computer age. Its Web site (www.lupin.com) attracts new visitors from all over every year. Lupin's members come from every nation and socio-economic background, though the majority tend to be white college graduates between the ages of 36 and 55, who make $50,000 to $70,000 a year.
In the hot tub, where clothing is forbidden, the photographer and I find ourselves having perfectly normal conversations with a young man from India, a young couple from China, and a middle-aged woman from Russia with a bandaged finger, which she holds aloft.
The stars burn white in the black sky above, and the mood is subdued. "Gee, if everyone just got naked and got into a hot tub, we wouldn't have any wars," says an aging hippie stargazing nearby. And he's probably right.
Stout, a southern gentleman to the core, insists we stay for dinner and entertainment. It's an offer easy to accept, though accompanied by pangs of anxiety. Would we have to get naked? Being a Rocky Mountain wild child and therefore a die-hard skinny dipper, I am accustomed to swimming nude. But with total strangers? Since I like to pretend I'm a fearless investigative reporter type, I act like prancing around in my birthday suit is no big deal and, after a while, it isn't.
At dinner and comfortably clothed once more, I'm still shocked when I glance up from my prime rib to see naked people eating dinner at the next table. When it comes time for the entertainment, I have no idea what to expect from the performance titled "Dueling Pianos." I look around at the audience—some clothed, some not—and think about that old recipe for killing stage fright by imagining the audience is naked. And indeed, when musicians Earl Dixon (below) and Spencer Brewer come out on stage, they seem quite at ease. So at ease, in fact, that by the fourth boogie-woogie number, Dixon's as naked as the day he was born.