Home | City Notes | Restaurant Guide | Galleries | Site Map | Search | Contact
San Francisco—January 31, 2008
It was Friday. I got off BART at Powell & Market and walked a block up to Ellis, then over to Les Joulins Jazz Bistro. At the far end of the long bar stood Reuben, the manager. He looked exhausted. The cause? Alfie Javier Almonza, his son, born October 9, 2007. The kid is doing well but exhausting both the parents. I told Reuben there was hope: In just a year or two he and his wife would be sleeping again. I knew; I had been through it. Between sets I had a quick conversation with musicians Charles and Valencia, then split for Le Central. I had too many places I wanted to go tonight and was rushing. Why the rush? Maybe I was making up for lost time, lost sleep; too many babes, too many babies. Slow down, I told myself, then rushed off.
Dave and Will are there at Le Central tending bar. We fall into a conversation about Fernet, the San Francisco bartenders' drink. It's good for the stomach and calms the mind; it will put you to sleep if you don't watch out. I should have mentioned it to Reuben. But Will tells me that it is not consistent from bottle to bottle. I guess I have not been drinking enough of the stuff; I hadn't noticed. I tell him about drinking absinthe in Paris and how it seemed to make me giggly, something like that. Then I'm off to Cafe Claude down the street and around the corner. I feel like I'm making up for lost time. But can you do that? Once it's gone, it's gone, right? Or is there some way to get more of the stuff?
Jinx Jones is there. He is new to me. I come in at the end of the last set, which ends with a hip-hop kind of thing. I ask him about it as he passes me at the bar. He explains, with an embarrassed-looking smile, that they really play jazz, that the hip-hop thing is kind of a joke ending. I'm happy to hear that. Jazz is my thing; hip-hop's not. There is a young woman at the bar next to me. I'm not trying to make conversation with her but a conversation nevertheless starts. She has long curly hair and is clutching a black pack of cigarettes, Djarum, I think. She says she's from Paris. I could have guessed. She is dressed stylishly and has the look of poster art. I tell her I just came back from Paris. Je reviens de Paris.
We fall into a conversation about food. She surprises me. She says she does not like the food in San Francisco. Her company has sent her here; she's not here by choice. She says she is gaining weight and blames it on San Francisco food.
"The food is more natural in Paris," she says.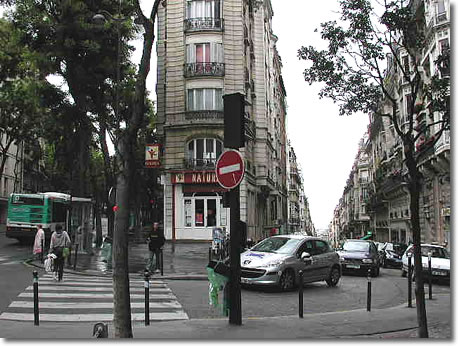 I did not find that so on my most recent trip to Paris but I didn't get around to saying so. In fact, the only natural food store I found was Au Natural in Montmartre. It hardly compared to a California natural food store. I think she has not been around San Francisco long. I admit one thing to her, however: The life style in Paris has San Francisco beat. It is about 10:30 now and the music is finished and Cafe Claude is starting to shut down. In another hour the trash will be out in the dumpsters. It is like that all over "The City." In Paris things would just be getting going now. But Paris may be headed our direction under Nicolas Sarkozy. He wants to get the French to work longer hours. But I wonder. With his new love, Carla Bruni, is he doing that himself? Mademoiselle departs, leaving me alone at the bar. I pay and leave myself. The rush is over; I'm no longer eager to hit another place. In California people are economic slaves and have to leave early so they can get up in the morning and go to work and pay their mortgages. Or pay their mortgages if they can. With floating interest rates and all the "subprime" loans, a lot of people are struggling. No time to celebrate. And what, anyway? Another day in Iraq?

On Saturday I had scheduled some work to be done on my van and decided to just wonder around town until it was done. From the auto shop on Polk and Pacific I headed downtown to the art galleries. On the edge of Union Square at Geary and Powell I came to the Weinstein Gallery. There I spotted a couple of new Brad Noble pieces. I am an admirer of Brad Noble's work. He always intrigues me. When I'm first looking at a new painting of his, I'm wondering: what is that all about? Then I get it, or sort of. Also, he seems to have no fixed technique. He is not Picasso grinding out cubistic works of art. He avoids the exact formula. In fact, I'm not sure that with a single piece I could positively identify him as the painter. Put a collection together, however, and you see the similarity, consisting of originality and intrigue. That is enough to make me like him. In person, he is a bit like his paintings.
"I like to leave open questions," Brad once told me.
"So do I," I said.
"But I leave more open questions than you do," he says getting a little huffy.
"No you don't," I said even huffier.
"Yes, I do," he said.
"What makes you think so?"
There, I had him!
But let's come back to reality. Brad would not object to that. He can be both real and unreal all on the same piece of canvas. We'll get back to unreal later on.
I dropped by 250 Post Street and took the elevator up to the Newark Gallery. There were new pieces there also. I had been away for awhile and the gallery had not just been rearranged—a common technique to freshen up a gallery—but had brought in new artists as well. One of the new artists was Paula Evers from Holland. She too leaves you with questions, but ones of another kind, like what is it? While suggesting basis realistic forms, she uses areas of color and texture to make the suggestion. She is dealing in what I might call abstract reality. You could make up other terms for it too: Realistic abstractions, abstract realism, borderline reality, the twilight zone ... Have fun. Be a critic. Invent your own terminology. What is art for but to speculate about?
Mark, the owner of the gallery, is out at the moment but Margaret is there, and we seque from talking about Paula Evers to talking about San Francisco. But there may be a connection. San Francisco is a kind of abstract reality that you can speculate about for years. You can ask what is it? Where is it? What's it all about? Even why is it? And you can do this all over coffee or a martini or whatever it is that turns you on. You can march around the city, slouch around the city, or wait for the city to come to you. There are all kinds of approaches to getting to know the city. But now I'm feeling kind of concrete and sentimental. I say that one of the things I like to do is take the cable car from Powell and Market up through Union Square and over to Hyde Street and Fisherman's Wharf. It is a very touristy thing to do but there is a reason it is touristy. It is a wonderful ride. Anyone from five to ninety loves it. You see everything that is lovely about San Francisco. And if you ever can't remember what is fine and lovely and beautiful about "The City," take this ride and you will know again. Then hop off and go over to the Buena Vista for a drink, and stare out at The Bay. You will fall in love with The City all over again. But be careful if you do this on a date. You will fall in love with your date, but it may only be a false love based on association. Dreamers beware. Romantics watch out. Lotus eaters, get back in the boat right now. Speculation? The whole city is speculation and a work of art.
Dreamy-eyed, I leave Margaret putting labels on a new show and wander around downtown. I come to Shreve & Co. jewelry on Post and Grant. I usually just look in the window but today I decide to go inside. If you don't know Shreve's, it is of another era. It is like something out of a movie. I'm surprised when I walk inside that the color does not change to black and white and I don't spot Charlie Chaplin and Alfred Hitchcock somewhere. I go down the aisle on the right looking at men's watches. I have done this before. These are not real watches as most people know them; they are show pieces. You wear one of these watches, if you dare wear one in public at all, to attract attention. It is like driving your beamer or Mercedes right into the cocktail lounge. People know you got the green stuff. They know you are a man of class, whatever that is.
But I soon grew bored with watches and wandered over to woman's jewelry. Watches are nice to look at but if you want sparkle, go to woman's jewelry. I wandered down the main aisle back towards the door, then up the far aisle till I came to a particularly dazzling display of diamonds and rubies: Two bracelets on a single post. I don't know why no one was helping me, as customers seemed to be outnumbered by employees in back of the counters, but maybe that is the ploy they use in the fancier jewelry stories: leave the customer to stare at the stones until memorization sets in, then make the kill. But I didn't have all day. I wanted prices on these two pieces that had become blazing stars in my eyes. I got the attention of a clerk—I probably had "that" look at this point—and she actually took both pieces out to show them to me. She was young but very calm and sincere. She had her hair pulled back nicely and was dressed conservatively but with just a hint of seductive sophistication. She was not part of the San Francisco I know today but I liked her nevertheless.
She held out the bracelets for me to look at, and it seemed like they sparkled more than any pieces of jewelry I've ever seen. They flashed what seemed like actual particles of light that flew out of them. Maybe I've only seen cheap jewelry before. Very hesitantly I put the question, my voice soft:
"How much?"
"This one is $3,500," she said calmly, "and this one is $38,000."
I sucked in my breath just slightly. They were both dazzling, but the one for $38,000 had a lot more diamonds and rubies, and they were set around dual circular bracelets that were entwined, sort of like snakes wrapped around each other.
I said that the $38,000 bracelet was probably out of my price range but I would think about the one for $3,500 and left. She was very gracious. There was no suggestion of "I know your type, you'll never be back."
From Shreve's I headed up Grant to Avant Card, where I got a belated birthday card for my son, whose birthday I had forgotten last month. I hate it when I forget someone's birthday but it is kind of inevitable that you are going to forget something now and then. Fortunately, when it comes to forgetting birthdays the greeting-card industry is there to help you—for a price, of course. I found an amusing and colorful card with a turtle plodding along with a present on its back. Inside the card is some kind of excuse or apology that is easily accepted from a turtle, considering that it is not the fastest creature on earth, or, probably, the brightest. Getting such a card late is almost better than getting an ordinary one on time.
Then I was over at Golden Gate Perk, around the corner on Bush Street and Claude Lane, and talking with owners Amy and Andrew about business. Truth to tell, they would like a little more. Who wouldn't? Truth to tell, I would like a little more business with the ladies, if you know what I mean. There is a slight problem with Golden Gate Perk. It is upstairs and there is a wall along the stairs that prevents seeing what is inside. A lot of people just walk by not knowing about the coffee, the tea, the Korean BBQ, the internet connections and WiFi, the plush couches, the flat-panel TVs in the back, and the cheerful smile of Amy. What a shame. We talk for awhile about what might make people more aware of what is inside. They have in fact a fine location and an excellent "product" at a fair price. Those who have found the place like it; just read yelp. But it is not very visible to potential customers. I vow to give this some thought. I don't want to see The Perk go away.
Thus it is I spend my day while work is being done on my van.
Later in the evening I get an email from pianist Eric Shifrin telling me that the venerable Washington Square Bar & Grill has closed. What? That should not be. In a city that purportedly cares about food—but too often is simply obsessed with novelty—too many of its best and most beloved places are closing. Why not get rid of the bad places, not the good ones? Why, also, the focus on just the food and not the whole restaurant, its staff, style, and all the other stuff that goes with food? Does food always have to be cutting edge? Does anything have to be cutting edge? Isn't life bigger than this? We have enough gadgets without turning food into another one.
Cobalt Blue. Anyone remember that place?
Cobalt what, dearie?
Forget about it, auntie. Just a nightmare I have some times when I think about a restaurant I really like.
My daughter and I walked into Cobalt Blue just after it opened, replacing for awhile the Wash Bag. We both kept our minds open, or tried hard to do so. We glanced around then made a U-turn out the door. Judgment was that instantaneous.
Amy at Golden Gate Perk and I have been discussing restaurants in Chinatown. She's Chinese, I'm not. So she may know Chinese food better than I do, or have a more authentic feeling for it.
Still, I have my opinions. I like Hunan's Home; she does not. I mention the sizzling plates; she's never tried them. We both agree that R&G Lounge is good but a little overrated. I ask her for her favorites. She names two: Yee's on Grant Street and Hing Lung on Broadway. I've never tried either.
I give them a try with Yan Yan. Yee's is solid Chinese food. I'm sorry I didn't know about it sooner. The flavors are rich, full, the quality of the ingredients good, the chicken plump and juicy. And the clientele is almost completely Chinese. One little surprise: I ask for a glass of white wine but they only have red. I have come to associate drinking white wine with Chinese food; in fact a lot of Chinese restaurants only have white wine or Tsing Tao beer. But the red wine they have at Yee's is of good quality and is compatible with the rich flavors of the dishes. How nice, too, to be spared a wine list and all the mental fatigue that goes into choosing the right wine. With restful minds, we discussed the economy and "subprime" loans, false real estate appraisals and other scams, the mortgage failure, the Iraq war and other scams, Afghanistan, student life in China, architecture in Shanghai, French cuisine, the University of California and Robert Dynes and other scams, and other topics. I'm sure with a wine list we would not have gotten past subprimes loans.
Hing Lung is also good but not as good as Yee's. At Hing Lung we have braised Mandarin noodles and several pot dishes. We also have a plate of little fish fried whole in a batter. I spot a curious item on another table. It looks like a kind of bread. Yan Yan says it is a donut. She orders it. But when it comes it does not taste like a donut. It is more like a heavy version of a pop-over. It is crusty on the outside but contains pockets of air on the inside. It tastes eggy. I like it. As usual we over-order and take a lot of food home.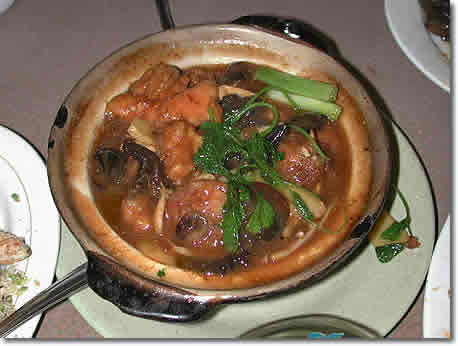 Now here are two places that are not on anyone's list of cutting-edge restaurants but nevertheless offer good solid food that you are going to enjoy eating. They are both inexpensive. If you spice up the meal with lively conversation, you will have a good time.
Ah, yes, did I mention it? At Hing Lung I ordered a glass of white wine, and the glass came filled to the top. A big glass too. Can you say that about your "cutting-edge" restaurants? I think I'm beginning to understand what chef Bruce Hill of Bix means by "sensible" food. I'm not fond of the word "sensible"—it can mean so many things to so many people—but I'm not into being a fool either.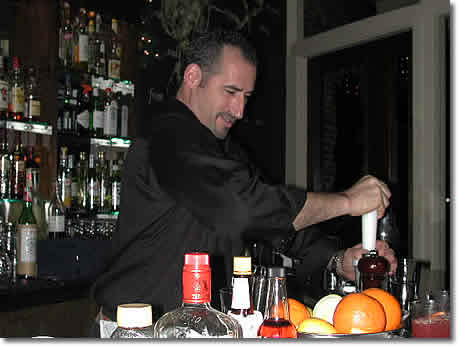 As we walk down Broadway toward Kearny, I see that Dave Nepove is at the bar at Enrico's. I walk Yan Yan home—she is a college student from China whom I sponsor—and I head back to Enrico's. Then I see that the finest bartenders in San Francisco are there: Dave behind the bar and Marco Dionysus and Jacques Bezuidenhout on the customer side. Marco and Jacques are currently at Tres Agaves and into Tequila in a serious way. Once you are hooked on the stuff, I guess it is a serious addiction. They are drinking it like wine. While they are eating a pizza, Dave asks Marco if he would like a glass of wine. Dave holds up a bottle. Marco thinks about it and answers, "No, it might take me a wrong direction." He's on Tequila Highway now and doesn't want to take an exit that might lead him to some wino shanty town. Don't blame him.
| | | |
| --- | --- | --- |
| Flying high on T | | |
| | Saving it up for her | |
| | | Don't wanna spill no beans |
| | | the fur |
| | stroke | |
| Just wanna | | |
Following salads and more tequila, the "boys" consume two steaks. Nice to have a young man's appetite. Does Tequila make you hungry? I had head it made you "horny," though I wouldn't know about that. I'm not a Tequila person.
This was all on a Sunday after the big storm had blown over a whole row of mail boxes in Treasure Island RV Park and made me put the top down on my van for fear it would be blown away. My days were numbered at Treasure Island RV Park but I did not want to lose my top.

I keep running into my friend Harold over in North Beach. He seems to be living in one of the flop houses on lower Broadway. Some place called the Golden Eagle Hotel. Next door is a tattoo place—I didn't see any tattoos on Harold's arms yet—and across the Street is Centerfolds. This is surprising because he used to have a nice apartment on Nob Hill, a BMW Sportser, dapper clothes, polished leather shoes, a kind of bitchy, whiney, show-piece girlfriend ... Now he goes about in tennies and loose sweaters. He looks more like a beat poet.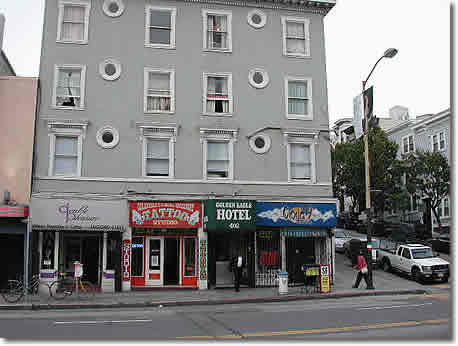 "Times, they are bad," he told me. "I haven't worked in nine moths."
"Really?" I said rather surprised to hear this. Once upon a time he was a good writer. A technology writer and journalist, actually. He has a PhD, I believe, from MIT and has worked some twenty years in the business. But now he says there is no work.
"They won't hire me," he told me. "All the jobs have been offshored to India."
I have heard this one before.
"So why don't you 'reinvent' yourself?" I asked. "Isn't that the American way? Can't you just push a button, take a pill, an enema, eat organic food, think novel ideas ..."
"As what?" asked Harold. "A doctor or a dentist? Or did you have in mind a taxi driver? There are limits to 're-inventing' oneself."
"Do you mean that re-inventing yourself is just some kind of meaningless expression used by the people who gave your job away?"
"You could say that. Yes, that is pretty close to the truth. What I would really like to see is management and shareholders and the whole Wall Street Mob reinvent themselves."
"Under water?" I suggested.
"Sure," said Harold. "But as taxi drivers would be fine. They would get the picture. Let them sell their fine cars! Let them live in some cockroach-invested hotel without heat! Let them share a bathroom with someone who smears the walls with ..."
"Is it really that bad?" I asked.
"No, but it's a good lesson in reality that everyone should get at least one time in his or her life. For the Wall Street crowd it is just an abstraction. A few of them know what they are doing to people but damn few."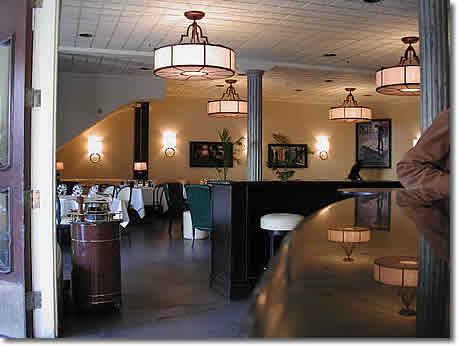 "How about a drink?" I asked. We were over at the new Enrico's drinking coffee but now I felt like a martini. The waiter brought two beauts made by the new bartender, Will. Ketel One, straight up with olives. Harold slurped a little from the overly full glass that he did not lift up and suddenly I could see his feature change. He was beginning to look like the old Harold—intellectual, always curious, essentially kind, and humorous.
"You know I don't care that the work is being shared. That is fine. That is even a good thing. But couldn't they leave something for us? This is pure greed giving the whole thing away and leaving us guys jobless. We did have something to do with creating the business. It was our brains that built their superhighway."
"Yeah, I know," I said. "It ain't right. But what can you do?"
"Get rocks. Start breaking windows. Set a few cars on fire. Let them know there is a limit. American workers are total whimps these days. Wall Street says roll over and be dead. They roll over and are dead."
Just then our conversation was cut off by the latest generation of car audio systems. It wasn't just the low bass sound that has been around for a few years now. It sounded like we were under attack. BOOM, BOOM, KA-BOOM. Low, like bombs dropping on Telegraph Hill. It was a brand-new silver Toyota driven by two young guys in visor caps, worn backwards of course, that made it sound like North beach was being shelled by heavy artillery. The signal changed at Broadway and Kearny and the car moved on up the street, the shelling now appearing to come from Russian Hill. Conversation was again possible.
"And what is that all about?" asked Harold.
For a moment my world stood still. I don't know why but I didn't feel like being any other place.
"Making money," I said." Youth buys the stuff. Industry supplies it."
"Why don't they just sell them drugs?" asked Harold.
"Illegal," I said. "Noise pollution isn't."
We enjoyed the silence for a moment, then Harold smiled and said, "Peace. Let there be piece, bro."
"Peace, indeed," I said."

On Friday I began my day with Fernet at Cafe Bastille, then ran up to Le Beau on Nob Hill to buy coffee beans and a bottle of Fernet to go with the birthday card. On an impulse I decided to walk over to North Beach to see how much of it was left. No, not from the car bombs. I was thinking about the Wash Bag closing and wondering if other places were gone too. I found the Wash Bag on Powell. It was closed but not flattened by the wrecking ball. I shot a picture. Then I walked over to Columbus and saw Mario's Cigar Store on the corner. It was not only there but open for business. The owner had not decided that revenue was too low and converted it into The Color Green. Then I cut over to Stockton and noted that North Beach Restaurant was still there. On a whim I went in and asked if Lorenzo Petroni still owned the joint. I was assured that he did. It used to be one of my regular spots but I have neglected it in recent times. Rose Pistola was still there; so was Steppes of Rome; Fior d'Italia was not where it used to be but I knew that it had move over to Mason; the Stinking Rose, yes, it was till there; and Mona Lisa and Molinari's.So not all was lost in North Beach. I chastised myself, however, for neglecting places that I liked.
With some assurance that North Beach was still there, I wandered back downtown to Cafe Claude; then up Bush to The Summer Place to see Suzie, who wasn't wearing makeup for a change; and finally up to the Laurel Court at the Fairmont Hotel where I bypassed the cocktail waiter on the floor—I hate waiting for drinks—and ordered directly from the bar. I went to a table by the piano to listen to Eric Shifrin.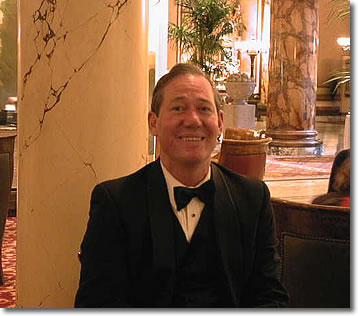 I am trying to think of new gigs for Eric, since he has lost his Monday night one at the Wash Bag. Cafe Claude? No, too small for Eric's big sound. Shanghai 1930? Don't understand their booking. Bix? Yes, a good fit. Or Hotel Majestic? That had reopened. Excellent fit. I would mention that.
Laurel Court, designed by Julia Morgan, is spacious and lovely. I relaxed and listened to the music, wishing to be nowhere else.
The way you wear your hat
The way you sip your tea
...
No they can't take that away from me
Was Eric making a political statement in his choice of tunes? While he may be facing employer stupidity, he wasn't facing offshoring like Harold. I don't think he'll have to reinvent himself as a piano mover.
Once I built a railroad; now it's done. Brother, can you spare a dime?
Good News! I got a call from Harold and he has a job. But not in the U.S.—in Paris, France.
"That," he said, "is because in my own country they have offshored everything."
Actually, this is doubly good news because I'm headed to Paris too. We can carry on our coversation there. I have come to enjoy our little get togethers at cafes, and Paris is loaded with them. Enrico's in San Francisco is a nice place to talk but in Paris there are a thousand Enrico's and they all stay open day and night.
I'm also looking forwad to seeing Katrine, despite her chain-smoking unfiltered cigarettes that smell like a trash fire. And, oh, yes, I'm wondering how she is doing with the new law that prohibits smoking in restaurants in Paris. That just went into effect. It probably means we'll be dining on the sidewalk. But I guess that's okay. I like fresh air, even when it's raining and the wind is blowing.
But Harold will have to find himself a new femme in Paris. His previous one, who worked for an "environmental" company in downtown San Francisco, dumped him when he moved to the flop house in North Beach. No loss there. Her real job, as far as I could tell, was helping companies comply with the law while doing just about anything they wanted. Harold can find another hypocrite in Paris, if that is what he wants. But truth to tell, I think his tastes have changed since he was out of work for nine months. He realized that the companies in the United States don't give a damn about their employees and that the politicians, while they talk about "American jobs," care even less for their own citizens. Now if Harold can just cut down on the booze and stop smoking—he didn't used to smoke—things will be pretty much back to normal. Well, maybe. Nine straight months of unemployment about does a person in. But I'm not sure I want things normal, anyway. And even with his vices, Harold's a pretty good guy.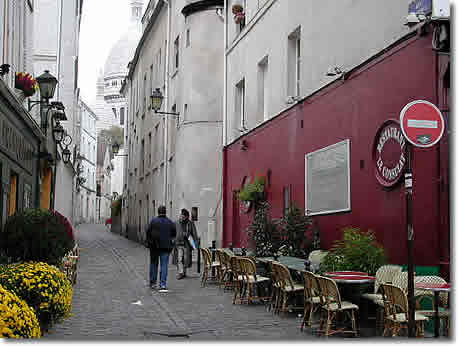 Home | City Notes | Restaurant Guide | Galleries | Site Map | Search | Contact