Home | City Notes | Restaurant Guide | Galleries | Site Map | Search | Contact
South San Francisco—November 28, 2007
I had only a few more days in Paris. I didn't want to waste them on stuff that didn't matter. Life's too short for that. Or looking at it another way, death's too long.
I went over to Au Rêve. That means to dream. Elyette was there, as I guess she has been for the last fifty years. She wears exotic stockings for an older woman and a curious, friendly smile. Also, she will mix French and English, depending on the situation. French when you know the words, English—but only a word or two—when you don't.
A few days ago I had come in when there was music and ordered "Four Roses" bourbon whiskey. Don't expect to find that easily in the United States but that is what you will get, if not Jack Daniels, in France and Spain. It's okay stuff; I bought a bottle or two in Paris. And if you don't like the whiskey, you can stare at the label. It's gorgeous. But what Elyette's husband, Pierre, thought I said I wanted was rosé. I ordered it with ice, avec les glaçon, but that was not enough to tip him off. He brought me a nice little wine glass of amber-colored rosé wine with ice. I didn't say anything but drank it. But Elyette figured it out.
But this time when I ordered Four Roses I got it.
C'est possible de monger? I asked. It was three in the afternoon and I wasn't sure if they were still serving.
Qui, she says. She has the assiette available. De fromage ou de viande. She can see that I don't know the word assiette and holds up a plate. I order mixte: fromage et viande. Et vin rouge.
It is all simple, tasty, and good.
This was on a Saturday. In the evening I went over to Autor de Midi to hear the Sebastien Jarrouse Quartet. The group was precise, powerful—formidable. I was especially impressed with the fine musicianship of alto sax player Olivier Boge. I was curious to know who actually books the groups at Autor de Midi, and asked singer Christine Flowers. She said it was Yves. Yves is the owner but spends most of his time upstairs in the restaurant, I suppose because it is busy there. Jazz is in the Le Cave a Jazz below. When he came down later I told him I was not aware he booked all the music. He smiled proudly. "It is my passion," he said. He used to be a saxophone player himself.
"The next time I'm in town let us talk," I said. Auto de Midi, with Le Cave a Jazz, is one of the best jazz spots in Paris.
On Sunday afternoon I went over to La Chope des Puces on Rosiers. I thought it might be a fitting place to drink a toast to Enrico Banducci, who passed away October 9. It was. It featured guitar music in the style of Django Reinhardt. La Chope has simple food, mostly le sandwich, and on Sunday a lot of people hanging out. The nearby Sunday big market draws some of them.
I was getting ready to come back to San Francisco, but on Monday I went over to Gilbert Jeune bookstore on Saint Michel Boulevard to get a copy of Zadig by Voltaire and Homage to Catalonia by Orwell. To top things off, I went over to Le Procope to eat lunch. I had had dessert there; I had also had a drink there at the little bar near the staircase. But I had not eaten from the main menu. They had some items from the original Le Procope menu from 1686, such as half a calf brain; but I was not in the mood for such dishes. I dulled out on Fillet de Boeuf, which was indeed a dull choice though not a cheap one at 39E. The steak was small, and though I ordered it a point, it came well done with a pile of thin green beans and russet potatoes. The vegetables were good but in no way exceptional. Also, there was little seasoning of interest. Still, I was dinning where Voltaire used to hang out, as well as Paul Verlaine and Fredric Chopin, and even Benjamin Franklin was said to have copy-edited the United States Constitution at Le Procope. I was not unhappy contemplating the history-rich environment.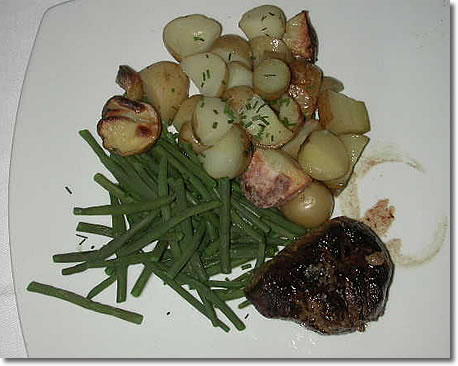 So it was I said good-bye to Paris for awhile.
A few days later, on Halloween, I found myself headed back to San Francisco, or more precisely, South San Francisco. I had given up my apartment in The City when I went to Paris, so was planning to stay in South San Francisco until I found another place or went back to Paris. Since I have an RV that I have practically never used, I thought this would be a good opportunity to put it to use. I rented space in Treasure Island RV Park, not on Treasure Island, which might have been interesting, but in South San Francisco. But that is not to say that Treasure Island RV Park in South San Francisco is not without interest. It is in fact a curious place, partly due to its location.
Located not in the "industrial" part of the city that everyone driving up 101 to San Francisco is familiar with, but up in the hills, in what must have once been a beautiful wooded area and still is to some extent, and above Coma, the City of Dead with all of its cemeteries, and located also in an area that is now hard hit with housing development, the park is a curiosity worthy of study. Did I mention it? It also gets the fog from Pacifica and hosts a population of seagulls that seems out of place in the woods.
Although I have not studied them carefully, the park also is home to a number of "characters." There are huge rigs as big as houses. There are smaller ones, more modest, that look comfortable. There are also those that have seen better days and probably better owners. Take the guy in the space I'm living next to right now. Instead of shades in his window, he hangs clothes that provide privacy. An old "tree" antenna—mind you, I'm not objecting to that—rises above the trailer, not a "dish." I have only talked to him once. It was on the day I "moved in." It was about three in the afternoon and he was out in his bathrobe.
"I guess I ought to move my car over," he said coming my way. His old beat-up Pontiac with gray primer paint and Montana license plate was partly over in my space.
"Not a problem," I said. It wasn't. It was only over a few inches. It also extended about a foot out in the street, which might be a problem with the park, which seems to have lots of rules and regulations
"My name's Louis," I said. He looked away, toward the hills, and stuck out his hand, as if reaching in back of him. We shook, almost like two boxers before a fight. Actually things have been fine but a little loud at times with his TV blaring at four in the morning. He likes to go out about 10 PM, to the bars, I suppose, because he comes back around 2 AM, then turns on the TV so his neighbors can listen too. Sharing in this case is not such a good thing. But it is tolerable. And some days he even skips the bars and leaves the TV turned low. Depression? Maybe. Everyone out here looks like they are on tranquilizers.
I presume he is a "character" but I have not had much desire to know more. There are others. The shower in my van is a little cramped so I go over sometimes and use the park showers. They are borderline disgusting but are quicker than my shower. Enter another character, a middle-aged Mexican guy. Or maybe I should say three Mexican guys. The first time I encountered him he was taking a shower and talking loudly with two other Mexican guys. Or I thought there were two others. But actually it was just him talking to himself. Also he does not like a quick shower. He likes to run the water on full blast for about 40 minutes, or untill all hot water is gone. He is a very popular guy in the park, as you can imagine. You first walk over to the showers to see if the Mexican is there or there is evidence, i.e., cold water, indicating that he has been there recently. Then you decide when to take your shower.
But I tell myself this is all temporary and provides motivation to find a new apartment in San Francisco.
Other interesting facets of the area around Treasure Island RV Park are the huge COSTCO next door and the Trader Joe's down the way.
I have no objection to Trader Joe's, although it does kind of sit out in the middle of nowhere at the moment. Any place that only sells the fun stuff to eat and drink is okay with me. I take a lot of vitamins anyway. But COSTCO I can do without. I have never had one right in my face. It is the epitome of American greed and piggishness. Even the parking lot and the traffic are a problem. You would think that the road at the side of COSTCO was serving a whole community but in fact it only functions as ingress and egress to the COSTCO parking lot. And try crossing the street even with the white pedestrian light. No self-respecting SUV making a turn after the red light has clearly changed is going to let you cross. I even saw a guy in a wheel chair get cut off one day. America the Beautiful? America the Greedy! America the Get Out of My Way Or I'll Run You Over! What does it mean when you see people loading pickup trucks with six packs of six packs of toilet paper the size of a shopping cart? Ditto Pepsi, coke, Coors ... We can't even keep up with the clean up of our overconsumption. And, hmm, I'm trying to recollect how many grossly obese people I saw in Paris? Why can't I remember? There were some, weren't there?
But let's be nice. And there are some nice things here. Believe it or not, Coma, with its cemetery economy, is one of them. I have begun to take walks over in Coma. The closest cemetery is Holy Cross. But you know Colma, don't you? It is where the dead outnumber the living. It's industry is burying people and watering lawns and growing and selling flowers. The town motto is "Great to be alive in Colma." Yes, a touch of humor that Mark Twain would have appreciated. What else do you do if you're living with thousands of dead souls roaming all over town at night?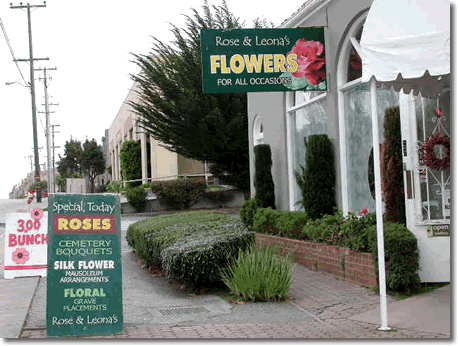 But seriously, I like the place. Walking there is peaceful, somber. I like that. Too much gaiety, like too much consumption, can make you sick. And the cemetery is certainly a good place to sober up your thinking about life. It reminds me of Thornton Wilder's Our Town. It makes you question your values, if not COSTCO itself. From the cemetery you can read the names on the stones—Sullivan, McClarty, McClellan, Peterson—and feel the cool breeze on your neck, the quiet, then stare over at the the development projects of flimsy houses that are cropping up—stucco boxes with little care for the design. And you can feel the stillness of people who were once busy with important projects that no longer matter in the least. What would they have to say now?
"Ah, if only I had ..."
"Nothing really mattered except ..."
"Lord, what was is all for that I ..."
I don't hear them mention the names of any stores. I hear only the names of children, friends, lovers.
I was touched by my neighbor the other day. His daughter came for a visit. She pulled up in a taxi. I guess this was the yearly visit to "dad." He didn't sound like his usual gruff self while she was there. When she left, I was astounded. I heard him say, "Honey, I love you." Has he been walking in the cemetery too?
But enough for the dead. There will be plenty of time for the dead, myself included, in the future. On a Saturday I decided to take BART into The City. BART is only two blocks, or should I say two busy intersections, away from Treasure Island RV Park. Strange to have some conveniences, such as BART and COSTCO and Trader Joe's, located so close to an RV park. It makes one wonder just how long the RV park will be around. Have real estate prices not increased sufficiently to make the park a target of developers, as other lands nearby? Is the RV park an eyesore in an area going upscale? Or is it just a whole lot more shoppers who don't need parking places? I don't know. Only the Money People know that. But I wouldn't count on the Treasure Island RV Park being around forever.
Past two intersections, where the wait seemed forever after pushing the big round buttons on the metal poles, I came to the BART station. It seemed that the developer of the nearby apartment complex had imitated the arch motif used in the architectural design of the BART station. It was nice to see evidence that the apartment complex architect was at least cognizant of the environment, even in the form of rather superficial imitation. There was a certain amount of energy expressed in the arches, fitting for BART, I suppose. The apartments, however, were of rather nondescript colors—light browns, pale yellows—and did not express the dynamics of anything about to spring into motion.
I bought my ticket and entered the station. It was practically empty. This was not the Paris subway. I took the elevator down to the platforms. A station announcer gave the status of the elevators: all were working. Okay, but were the trains on time? Again, it was almost empty there. As I waited a few people trickled in, most with earbuds and large plastic bottles of water. I have never been into the earbuds thing. I guess you can be one place and feel like you are another. I like water but those big bottles? I'm not sure; they look heavy. Most of the passengers looked like they were going jogging, not into The City. The passengers all seemed very young looking, even the older ones. I'm not sure I want to look so young. There is still some advantage in being yourself, I think. But perhaps this is just "old think" on my part.
It was about a 10-minute wait until a train showed up and it was not awfully clear where it was going. This was my first time on BART, so I was trying to "experience" it. Part of that experience seemed to be the art in the stations on the platform level. Some of it was interesting, such as the old photos of San Francisco and South San Francisco. The fire department, factories, a flower show on one of the piers. It was also interesting the way the images changed according to the viewing angle. This was better, I suppose, than advertising, as in the Paris subway. But then the Paris subway is fast. At the same time, it was a little contrived. How could it be otherwise? It was the product of "planners." It was also a bit sparse. It's easy to imagine the budgeting battles that probably took place over the station artwork, the resignation in the end to making do with less. You see this in other aspects of the station; for instance, in a nice row of tiles with too few to have the intended effect.
But the BART cars are wide and the seats comfortable, more like living room furniture than something you expect to find in a train. They also take up a lot of room, limiting the number of passengers who get to sit down. They also have a worn look. How could they look otherwise with that many people sitting on them daily?
The actual trip into The City is interesting. You pass from South San Francisco to Colma to Daily City to Balboa Park to Glen Park to 24th street in the Mission to 16 street, then to downtown San Francisco: Civic Center, Powell and Market, then Montgomery Street. Some of the drivers call out the stations clearly; other mumble; still others don't call them out at all. Until you get to know the system, knowing where you are can be a problem, as the signs in the stations are almost too small to read. A budget problem? Did all the money go into old photos and a few tiles? Who knows.
It's kind of a fun ride into The City over the hills from the south. You get a ride through everyone's backyard and some of it looks like a shanty town of flimsy construction. It looks like you could blow it down or a big wave from the nearby coast could wash it all away. But then you are downtown on Market Street and Montgomery among the tall buildings, both old and new. In The City there is excitement. Maybe it is all the deals going on in the financial offices; maybe it is all the restaurants serving lunch and martinis; maybe it is the women, at least some of them stylishly dressed, though not so stylish as Paris, and not so low cut. Wow, Paris, you are something. Forget political correctness and sexism. If it gets his attention, wear it. In San Francisco, the big water bottle, as if one is going on a hike, the healthy lunch, as if flavor were a vice, prevail too much. Women are women but they are ready to box your ears if you say the wrong things. Be careful, Harry, boxed ears hurt. Maybe better preface that remark. Or not say it a all.
But enough for careful thinking. I headed straight for Club 21 in the Tenderloin. It has been three months. It was packed with the usual down and outers but I found a spot at the bar. Frank poured the Jack Daniels and refused to take my money. Nice to be back and have someone show that he cares.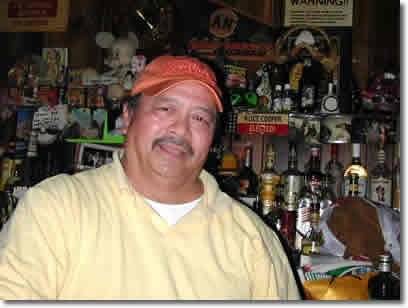 I went over to the big window that faces Taylor Street and set my drink down on the counter below the window. I looked across the street, then up on the corner of Turk and Taylor. There was the usual stream of dudes passing the window. All seemed to be glassy-eyed and on a mission. At the top of the building I saw a well lit room with chandeliers. It surprised me but maybe it shouldn't have. The Tenderloin is full of contrasts. You have to keep your eyes open and see it as it is. The guy next to me said it was owned by a corporation, meaning, I suppose, that you could have a half-way house on the first floor and a banquet room at the top—if it made money. Anyway, he wasn't surprised. What surprised him was that Little Joe's was closed. He had walked down from Hyde Street to get some meat balls. "Ah, yes, the meat balls," I said. I know meat balls; I have even been a worshiper at times. What better proof of a loving god than the meatball? Try that on your congregation, Monsignor, and you will have believers! Or fresh, crispy French bread and wine. But there had been a fire a Little Joe's, so no meat balls. Thank god I hadn't been thinking about meat balls all day. I had only spent the afternoon with ghosts at a cemetery, then got the urge to drink Jack. Then Jack turned out to be free. No complaints from my department. We would let this day pass as one of the better ones. It was like au rêve, like a dream.
Home | City Notes | Restaurant Guide | Galleries | Site Map | Search | Contact