Home | City Notes | Restaurant Guide | Galleries | Site Map | Search | Contact
Paris—October 7, 2007
I may have eaten the worst meal in my life the other day but I'll get back to that.
On Wednesday last week I decided to go visit a couple of those famous Paris restaurants. I was tired of reading about them or having people tell me about them and having to say, "No, I've never been there." I'd rather say, "Oh, yeah, I know that place. Overrated, in my opinion. Now let me tell you about a little place no one knows about on Rue Saint ..."
But on the way over to those places at Saint Germain des Prés I first dropped by a place that truly interested me. Le Procope is well known but does not appear to be an "in" place in Paris. Maybe that is because it has been around since 1686. It is in fact the oldest restaurant in Paris and possibly the world. Voltaire used to dine there; so did Benjamin Franklin. In fact many, many well know people have dined there over the years. But I don't think it attracts the jet set, the in crowd, or any of their hyper-excitable offspring. It attracts more like museum goers. Or museum goers who like to eat. Well, I'm into that.
Le Procope is located at 13, Rue Ancienne Comédie off of Boulevard Saint Germain. You can walk by without noticing it. Its rear side, which was probably its front side in days gone by, is located in a little alley without signage. I chose to enter through the alley with its bumpy cobblestones. Le Procope is as delicate and fine as an old museum. I'm sure in the United States it would no longer be a working restaurant but a museum with NO EATING, NO DRINKING, NO SMOKING signs everywhere. But in Paris there are so many such places of antiquity that not every one can be turned into a museum, nor would it be desirable to do so. In fact, what better way to showcase such a treasure than to show it off as a fully functional restaurant? What is more memorable than ordering a Scotch and soda in a place Paul Verlaine probably had one too many and Napoleon left his hat as a gesture that he would return?
But I did not have such interesting or lofty thoughts when I went in. In fact I felt a little intimidated. I asked if it were possible ("Est-il possible ...?") to have a drink at the bar and was escorted there by a young waiter who set me up at a little table at the end of the bar under a staircase. It was about 3 o'clock in the afternoon and the place was in fact nearly empty. I ordered a Chivas Regal from the young bartender who looked confused about what I wanted and got one of the waiters to come over to listen to me say "Chivas Regal." It was the old story: My pronunciation was different from the French one. I might as well have said I wanted Chivaregagoligosh. My "Chivas Regal" didn't register. But the new waiter, who may have been a linguistic student from nearby Sorbonne University working his way through school, understood me. "Avec les glaçon," I added. I have been through this one before. Say "avec le glaçon," and it comes with a single ice cube. Gotta use the plural or you are taken literally.
It was at this point, drink in hand, that I realized how the French preserve things so well. The secret is thick paint. I was staring at the door to what I supposed used to be a storage closet under the staircase. It had thick beautiful paint and a fancy polished knob. I think in the United States we use thinner paint so buildings deteriorate more rapidly and can be torn down without all the hassle of permits.
I also looked across into one of the dinning rooms at the portrait, oval and in a gilded frame, of some famous French personage whom I did not recognize.
"Ou est Voltaire?" (Where is Voltaire?) I asked the bartender.
He indicated that Voltaire was on the second floor. I sat for a moment in reverential silence; it was an awesome feeling to be sitting in a place that has been a hangout for so many fine writers over the years. Not just Voltaire, but Oscar Wilde, Honoré de Balzac, Victor Hugo, Paul Verlaine ... I paid my respects, then the bill, then headed back down the alley to Saint German des Prés.
At the corner of Place Saint Germain des Prés, there it was: Les Deux Magots. This was on many people's "must see" list and now I was there, frankly a little embarrassed at having made the effort. Quite possibly I have walked by it before without giving it a thought. How could I be so tuned out to what is in? Easy. I just don't pay any attention.
I kept my distance for awhile, then walked over, staring at all the chairs and tables spread around both sides of Magots' corner location. Then I did a bold thing: I walked on by. But I first took a quick glance in the window of the outer patio at a guy with white hair and expensive-looking powder-white sweater. I nicknamed him "Bud." I also glanced at his husky-looking blond female companion. Then I was approaching the next must-see destination almost right next door: Café de Flore. There I did the unthinkable: I braced myself and went in. But the noise of a hundred excited conversations and dishes and silverware clinking and clattering quickly drove me out. I retreated to the enclosed outer region of little tables and chairs. I will give Café de Flore this. The service is good. I had a cafe au lait in very little time from a waiter who actually smiled and did not try to correct my pronunciation. Maybe, had it been less busy, he would have. I will never know. The cafe au lait was good, the coffee coming in a little carafe of espresso and the milk separately, making for about two small but strong cups. It also came at a premium price: 5E50 or about $7.80.
These days Café de Flore is mostly full of elegant people who look like they have the day off from Hell. But at the table next to me was a guy with a book in drab clothes and knit cap. He had a disturbed or disgruntled look about him. About fifty years ago he would have fit into the scene perfectly; these days he looked like someone management hoped didn't stay too long. I was dressed well enough and making no attempt to read anything but chose not to stay too long.
I walked down the boulevard a little further, then crossed and walked back down the other side. I came to Brasserie Lipp, another "famous" place but one that seemed mostly deserted now. I went inside through the revolving doors and stood for a moment, looking at all the dark wood and the polished brass, then left. I liked its look, its echoed silence. The few people having drinks outside were maybe like me, trying to keep a certaine distance from the people and places across the street. Well, nice to think so, anyway.
That was enough for one day, I decided. But a plan began to form in my mind. I would come back the next day, have a drink at Les Deux Maggots, lunch at Brasserie Lipp, and coffee and dessert at Le Procope. Then, when anyone asked, I'd say, "Sure, 'course I been there, but let me tell you about ..."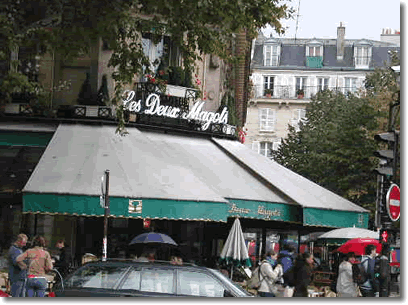 Thus it was on Thursday that I walked into Les Deux Magots and was surprised that it was not all noisy conversations and clatter of plates. In fact, the atmosphere seemed to be remarkably calm inside. Like Brasserie Lipp it had the dark wood and polished brass, but it also had comfortable tables with some space between them. There was also more light. Of course the wooden statues on the wall were unmistakable and curious. I didn't see "Bud" there with his husky blond companion.
At the next table a young Asian woman was writing notes on postcards; that was the only sign of overt tourism. A waiter came by and took my order without much ado or attempting to correct my pronunciation. I ordered a vodka martini. "Blanc?" he asked. I said "Qui." I didn't quite understand at the time but should have. Be was referring to the vermouth. It came shortly in a tall glass with two green olives skewered on a stick handing on the side of the glass. It was sweet, indicating a lot of Vermouth. I don't think it was shaken or stirred, just poured into the glass cold. It was okay but not great. I have been spoiled by San Francisco cocktails and don't expect much when I go other places. In general I have found that not expecting much is good policy. Disappointment is then minimal.
I only drank part of the drink, as I didn't want to arrive at Brasserie Lipp drunk, paid and left.
As the previous day, I walked down Saint Germain a block, crossed, then backtracked to Brasserie Lipp. I was earlier than I had been the day before. As I enter, I see that the place is packed. I asked the Maitre d' if it were possible to get a table for one.
"Mange pour un, est-il possible?" I asked
"Qui Monsieur, quelques moments."
A few minutes later he was pulling out a table by the wall. It was one of a long line of tables, each with white table cloth and butting up against each other, along the far wall of the restaurant. As he pulled out the table I squeezed inside. I had been feeling uncomfortable about the crowd while waiting but it was now that I began to feel really uncomfortable. There was a couple on my right side finishing up with dessert and coffee, a single woman on the left whose food hadn't come yet. Eating lunch alone is okay with me but eating lunch alone in a crowd is not my ideal. You want some space.
I think I was actually at the tail end of the lunch hour, as people began to leave. The couple on my right took the liberty of pulling out their own table to escape, and shoved it into my table, dragging the table cloth and knocking an empty wine glass off onto the floor with a crash. The woman smiled like a kid who has done something cute. One of the waiters, unsmiling, showed up with broom and dust pan and started sweeping. My table was restored and my order was taken. Briskness seemed to be the predominant style. Briskness and professionalism.
Wine showed up shortly, soon thereafter my food order. The waiters wore tuxedoes and everything seemed to be clockwork. One of the waiters, the one who had cleaned up the mess and restored my table, was a big commanding-looing fellow with a short goatee; the other was a younger man who reminded me somehow of a duck. He seemed to be making humorous remarks from the corner of his mouth as he waddled about with plates of food. I suppose that took the pressure off. Everything seemed to be a well practiced routine. The woman on my left began talking on her cell phone as my order showed up. I had ordered the roast chicken, poulet rôti; it showed up with frites, or fries, as expected. In fact every plate of food I saw had frites on it.
Now there is nothing wrong with frites. I like them. But I was beginning to feel like everything was just a well executed formula. With the crowd of people, the waiters running around like robots, the noise, and the woman on the cell phone, I began to feel like "Bud," a guy just fulfilling a mission, so that I could say, "Sure, I been there." Maybe it would be better to say, "Nah, never heard of the joint. Sounds like a dump to me."
I let my waiter pull out my table and left without breaking anything. I turned on my cell phone to see if there were any messages—there weren't—then turned if off again.
I crossed the street again at Place Saint Germain des Prés and headed west on Boulevard Saint Germain. A few minutes later I was entering Le Procope through the alley and feeling much better.
I was seated immediately in a little room across from the kitchen. There were four tables in the room and only one couple there. I noticed that all the wait people were young. My waitress was a young woman with long curly hair and darting eyes who seemed to be flirting with one of the waiters between taking orders and delivering them. I liked her better than the duck back at Brasserie Lipp, and she got my order straight: Sorbet au Chocolat Mi-Amer et son Macaron "Maison" and a cafe au lait. The sorbet was made at the restaurant and good. I was unmoved by the coffee, but more on Paris coffee later.
When my waitress came by I said, "Il est très historique ici."
"Qui, Il est très historique." But I didn't get anything more out of her. She went back to teasing the waiter. They seemed like kids working in an amusement park. Since I was near the kitchen door, I began to watch when it opened. I was curious to see if I could spot the filth that George Orwell describes in French restaurants in Down And Out In Paris And London. I didn't; it looked pretty clean. I've worked as a plongeur, or dishwasher, in restaurants myself and have seen less than ideal conditions inside the kitchen but nothing to match Orwell's description.
Okay, now I could honestly say, "Yeah, I been there." But now I wanted to be able to add, "But let me tell you about a little place off ..." I had a plan for the next day. But I also wanted to go to a pen store—they are fabuleux in Paris, right?—and pick up a French copy of Candide by Voltaire. I had been reading an English translation and wanted to read it in French.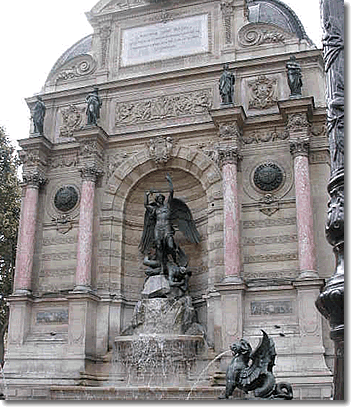 So on Friday I found myself again coming out of the metro at Saint Michel but this time heading to Quai Saint Michel and heading west on it. The pen shop I wanted to visit was Magasin Sennelie on Quai Voltaire. Like every other street, alley, or boulevard in Paris, Quai Saint Michel soon turns into another quai, then into another quai, then another, until after you have quit believing that it is going to turn into the one your are looking for, it does and you stand there unbelieving, rubbing your eyes. By the time I had passed dozens of restaurants aching for tourist dollars, since this is right down on the Seine with many hotels, and art galleries looking coy, but inside itching fiercely for you to come in a spend, there it was: Quai Voltaire. Would Voltaire have approved? Who knows. It is like this all over Paris now. People who were once thrown in jail by the authorities of their day for printing the truth, now have rues or quais or boulevardes named after them. It is much the same in San Francisco now, especially in North Beach, where there are now streets or alleys named for Jack Kerouac , William Saroyan, Lawrence Ferlinghetti ... even though some of these people did not live in San Francisco that long. But it is all good. Honor your writers after you release them from jail!
But to get back to business, here was another lesson in low expectations. Magasin Sennelie is not really a pen store; it is an art store. While it has a few pens upstairs, they are of such low quality that they are simply in bins. Good pens are always locked up in glass display cases. Here you could steal as many as you want and no one would care. However, had I been looking for an art store, I would have been greatly pleased. I searched my brain for unmet art needs, came up with none, and left, heading back down Quai this and Quay that toward Place Saint Michel. Gilbert Jeune books store was next on my list of low expectations, and I couldn't wait to be disappointed.
It had been raining off an on since I arrived and I was pretty wet by the time I got to Gilbert Jeune, not the best condition for going into a book store. But then everyone else was soaked too and no one was keeping us out. Dripping with water and holding a wet, floppy, partially collapsed umbrella, I entered the book store. In San Francisco book stores are less cramped, and they don't steam up as much when it is a rainy day and there are a lot of wet shoppers inside browsing the stacks. Take Borders on Union Square. There are four spacious floors, fine restrooms, a big coffee shop with quality teas if you are against coffee and into your health, and there are scattered chairs—comfortable ones that sometimes attract the homeless—where you can sit down and read a first chapter or so. Not such amenities at Gilbert Jeune! There are a lot of books but they are crammed into very tight spaces, and you are likely to find yourself bumping heads with someone who is also interested in the same book you are. "Me pardonner, manque. Êtes-vous allant acheter ce livre ?" People begin to wear that tight expression when their space is invaded. It is like being too close in the restroom, that is, if there were a restroom.
But low expectations sometimes pays off. After having bumped heads with a young woman who looked like she was dealing with a serial rapist, I found Candide. Know the book? It is actually called Candide ou l'Optimisme. It does anything other than support the notion of optimism. But there was the book. I had found it after I was almost certain that I would not. My lucky day. It does happen!
After going through a steamy line and paying only 1E50 for this gem (it is!), I was back on the street in the rain. Okay, good things don't last. But at least I had a plan. My third goal of the day was to find one of those places in the Latin Quarter so that I could honestly say, "Bud, let me tell you about this little place just off ..."
I began to wander on Saint-Séverin. I had been over this way a few night ago at the jazz caves, Caveau Hachette and Caveau Des Les Oubliettes. It was going on 4:00 P.M. now, or 1600 Paris time. As usual I had a plan. I would first find a bar that I liked and have a drink; then I would find a restaurant and order just one plate. I wanted to prove that good food existed over here. And I wanted to be able to brag about it to some imaginary guy name "Bud" in a powder-white sweater.
Here's my report:
In search of the perfect bar, I first wandered down Saint-Séverin. I stared hard into a number of places but they somehow looked less than perfect. Not that many bottles behind the bar, red or blue lighting that I found annoying, the wrong shape or location of the bar inside the restaurant ... The rain had stopped for awhile but not it began again. Well, I thought, maybe it doesn't have to be the perfect bar; maybe a pretty good one will do. I wandered over to Rue Saint Jacques, then over to Reu Hatchette. I saw a couple of pretty good bars on Hatchette but neither was open yet. The rain continued and I thought, what the heck, maybe just an okay bar will do. I wasn't planning to tell "Bud" or anyone else about the bar anyway. I wandered back to Bouelvard Saint Michel, back down to Saint Germain, then over to Rue Harpe. Truth to tell, any open bar would have done at this point, but in fact I now spotted one that looked pretty good. My spirits rose. I walked inside over to a big corner bar with two sides to it and two bartenders. My lucky day! Or hour, anyway. I ordered "Monsieur Le Jack Daniels." The older of the two bartenders, who looked like the owner, appeared to be a friendly sort and made no attempt whatsoever to improve my pronunciation. "Avez-vous le chips?", I asked. "Qui, Monsieur." He brought me the chips. It was then that I noticed the wide-screen TV mounted on the wall near the ceiling and the big beefy guys with beers. More of them arrived. They looked like American jock types who had shown up from who knows where. A work assignment that took them to Paris? If so, I guess they were making the best of it.
"Very good beer," the bartender was saying to one of them, pointing to one of the beers he had on tap. I think he was out of the other been, the one the guy wanted. The guy seemed to take no notice, so the bartender repeated his statement, as if to a stupid person, "Very good beer." His English was clear but heavily accented. Still the beefy guy took no notice, so he repeated again, "Very good beer."
"If it's so good, why do you keep saying it?" I felt like asking but couldn't quite form the words in French.
But now I noticed something odd. There was a strange mood among the beefy guys. They simply drank their beers and stared at the wide-screen TV saying nothing. They looked depressed. They all looked like guys who work out in a gym. You don't see too many of that sort in France. Muscles good enough to get you to the tabac and the wine shop are good enough. Why bulk up for nothing? The guys with the muscles looked like they didn't know either. And right now they looked like they were depressed about it. I think I had caught them in a rare moment between states of hyper activity where doubt suddenly intrudes itself. I'm pretty sure that in another five minutes and with the "very good beer" they would be yelling and shouting again, making fun of Frenchmen or their customs or words and ordering more beer. Pour le petit moment, however, it was interesting to observe their bleak, existential expressions.
I noticed three older French women who had been having coffee at a table near the bar. They were getting up, getting ready to go. Good timing, I thought. I don't want to be here either when doubt disappears and testosterone returns. I followed the ladies out.
I put up the umbrella again and set out to find that great little place that I was going to tell some Bud or Mike or Jack or Dick about. But now I remembered a place I had passed while first wandering down Saint-Séverin in search of the perfect bar. I wondered back that way. Voila! There it was. It looked good, and it looked warm inside. But it was also crowded, even though the hour was early. I didn't feel comfortable going in just by myself and trying to get a table. I didn't want to repeat the experience at Brasserie Lipp. But now I noticed a place next door. It looked very similar—checkered table clothes, candles on the tables—but there was not the crowd. In fact, there seemed to be only one couple at a table. I collapsed my umbrella and sloshed my way inside.
Now in San Francisco I have trained myself to rapidly walk out of a place if I don't get good vibes from it, but I guess my training failed me here. I am like the cop who forgets one time his training for dealing with suspects and gets shot dead. There is an Indian fellow inside. He is the Maitre d', I guess. A Chinese guy in a dirty apron and a chef's hat stands close by. The Indian guy leads me to a little table located on long corridor between dinning rooms. It is like a wind tunnel, as front and back doors are open. Had I been wearing a hat it would have been blown out the back door and sailing over the Seine by now. I should have run for my life but instead I sat down and stared at the menu. It listed curry steak. I really wasn't into that and none of the other items had much appeal. Maybe, though, I would just get something to hold my appetite and eat later. I could skip telling Bud and the others about this place. There was a hamburger on the menu at 10E. Not a cheap burger but probably a better deal than a curry steak at 18E. I ordered the burger and a glass of vin rouge. I didn't specify any particular vin rouge, since that seemed like it would lead to added expense.
The Indian guy brought me a glass of what tasted like my old friend, Carlo Rossi. Know the stuff? Thin, pale, with a little sharp edge on it, and very inexpensive. I used to drink the stuff once upon a time when I lived out in the woods in Northern California and had no money. It was a life saver back then. But in Paris I expected something better. Then the burger arrived, taking my mind off the wine.
Now I grew up on burgers, all kinds. Simple ones, fancy one, barbequed, all kinds. We had wonderful burgers when I was a kid with fresh ripe tomatoes, cripsy lettuce, and crunchy slices of onion. Later I ate gourmet burgers. I love the one at Moose's in San Francisco. I have also eaten burgers from MacDonald's and even Jack in the Box, I'm ashamed to say. I know the range, or thought I did. But what arrived at my table broke the scale by which I had been measuring burgers. It shoved the scale down where I might now measure things that didn't formerly qualify as burgers. First, taking a big sip of wine to take the chill off in the wind tunnel, I went to work on the burger like a scientist. I pried the buns apart and stared inside. The first thing it did was steam, like something that had just come out of a microwave. When the steam cleared I saw this: two dark meat patties super well done, gooey cheese of the processed Velveeta type, and some chunks, not slices, of tomatoes that had their texture destroyed by overheating, as would be consistent with microwaving this thing. I observed no "secret sauce" and was thankful thereof. What else was on the plate? I think you can guess. Frites and a some chopped lettuce with a little wedge of tomato. What I've come to call The French Formula. So what was Bud, et al, going to think? Bud & buddies were never going to know.
I took a bite or so; I'm not a coward. I drank half the wine. It brought back some good memories. I paid l'addition and left.
Outside there was a guy staring at the carte de menu. He was with a woman and child. I felt like I should warn him, but the French for "Don't do it" escaped me and I walked off. I'm ashamed to this day.

Home | City Notes | Restaurant Guide | Galleries | Site Map | Search | Contact