Home | City Notes | Restaurant Guide | Galleries | Site Map | Search | Contact
Paris—May 16, 2007
Sarkozy est dedans, Chirac est dehors. Sarkozy is in, Chirac is out.
I did not ask the politicos what they thought; I asked musicians. They, after all, are the ones who count.
From Christine Flowers, a New York singer living in Paris:
"Eeeks ...Sarko!!!! Hmmmm, I wouldn't have voted for him, and as an artist I'm terrified at our prospects, culturally; but like the song goes, 'I Will Survive!'"
My own feelings: They could have just waited awhile and we could have sent them Bush. They want "reform," they want a mess, Bush'll do it. Maybe they'd like to take over in Iraq. They can have it!
Christine was performing the other day at Cave a Jazz at Autor de Midi in Montmartre. I didn't make it but she said it went well; "really fun , super-good vibes on stage and in the room!"
Christine has a low, sexy, soulful voice, the essence of the blues. And she not only connects to the audience with her music but with a kind of running conversation she has with them.
She's not doing a lot of gigs right now because she is working on a new CD. It should be out around November.
Singer-songwriter Stephane Cade was performing at Au Limonaire near the Grand Boulevards on the day Sarkozy took office. I don't know how it went but I asked him a few days before what he thought might happen. There have already been riots before Sarkozy took office.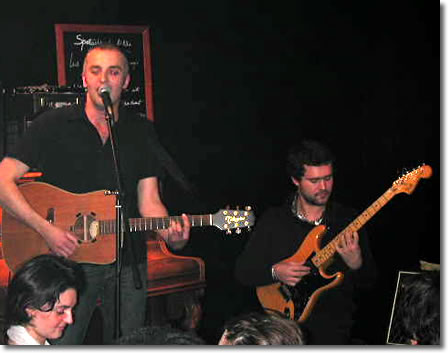 Stephane's response: "Shit! At the Limonaire, there will be rivers of tears. They don't like him at all." He went on, "Poor young people burning their own poor parent's cars is a desolating picture. It seems to be calm now, but I'm sure it will explode at the first occasion."
Probably. I'm sure my dad would be pissed if I burned his car. "Son, how could you? Ma voiture! (My car!) Do you know what it cost?"
"Sarko! I lost it. Je suis désolé, mon père."
Ah, but it is not really funny, is it? They say we must give "Sarko" a chance, and we will. But I am skeptical of someone who has to assert that he is not a fascist. "Je ne suis pas un fasciste!" It usually means you are.
But who knows. His cabinet appears to be an interesting one. Maybe, just maybe ...
San Francisco—May 13, 2007
Jazz pianist-singer Scotty Wright has finished a three-month gig in Shanghai at The Bar at the Shangri-la Hotel in Pudong. He was in San Francisco the other day hoping to get his visa for Tokyo, where he has another three-month gig at the New York Bar in the Park Hyatt Tokyo hotel. Visas can be a pain. A lot of standing in line waiting. Jazz musicians can do it if they have to but it is not what they are good at. Business guys & gals, with their "core competencies" in this and that, are much better at it. Lines are for cattle, whose core competencies are milk and steaks; but business folks, when there's money involved, are pretty good at them too.
Scotty is far to good a musician to be left standing in line, so I hope he gets that visa soon. I was getting my own recently over at the Chinese consulate in San Francisco. I began to feel pretty hopeless after the first half hour in a line that was a motionless snake. It is the same feeling you get stuck in traffic. "How did things get this way?" you find yourself asking. "Is such a life worth living?" A little voice inside you says no, you fool, you knew that; then the line moves and you forget the ugly little conversation you were having with yourself. Still ...
One of the pleasures of living on Nob Hill is having the Laurel Court at the Fairmont Hotel as your neighborhood bar. And another nice things is pianist Eric Shifrin, who plays there Wednesday through Sunday. He plays dreamy American Song Book classics Wednesday through Friday and Sunday, filling the Laurel Court with dreamy mood music, transporting visitors at the Fairmont Hotel into feeling that they are living in a better time. I hate to imagine the low they experience when they are back in Kansas on Monday. On Saturday night, however, Eric plays with his trio, and the mood of the music changes. Then he sizzles, filling the big rotunda of the Laurel Court with driving, straight-ahead jazz. He sounds like a cross between Bill Evans and Oscar Peterson, thoughtful as Evans but with the swing of Peterson. I don't know what it is but it works. For some reason on Saturday night that is what visitors want. I guess they have completed their business, made the sale, attended the conference, or simply have had their fill of Fisherman's Wharf or Union square, and they want a lift now, not a trip back in time. Eric provides that.
On Saturday I dropped by when the trio was playing a particularly rambunctious version of "You and the Night and the Music." This is a tune composed by Arthur Schwartz with lyrics by Howard Dietz. I didn't know that when they were playing the tune, however. I looked it up later. Or tried to. I'm still trying to get it straight.
Actually, I've got it straight about "You and the Night and the Music." But I also noticed that Schwartz and Dietz wrote "What a Wonderful World." When I go to find the lyrics, I find a version by George Weiss and Bob Theile that was, I'm told, made famous by Louis Armstrong late in his career. One source describes the song aptly as a "philosophical feel-good soliloquy." Know it?
I see trees of green, red roses too;
I see 'em bloom for me and for you
And I think to myself, what a wonderful world.
It does make most people feel good. However, after reading the "feel-good soliloquy" description of it, I begin to feel a little creepy about feeling good about it. I become ashamed of my naive pleasure. But I live with it. Feeling good is better than feeling bad and whatever does the trick, drink it, smoke it ...
So it looks like this is the case: There are two version of "What a Wonderful World," an older version by composer Arthur Schwartz and lyricist Howard Dietz and the new version by George Weiss and Bob Theile. I do not find the lyrics to the Schwartz-Dietz version. I wonder if it makes you feel good too?
Est-ce un monde merveilleux? (Is it a wonderful world?)
Je pense ainsi! Parfois. (I think so! Sometimes.)
Home | City Notes | Restaurant Guide | Galleries | Site Map | Search | Contact