WHITE ALLIGATOR, ZOOFEST MAKE MAGICAL DAY AT SF ZOO

louis martin
cns news & features
San Francisco--
While the world spins its tale of woe, an escape to the zoo can be an escape to sanity--sanity of sorts, anyway.
Visiting now at the San Francisco zoo is a rare creature--Antoine LeBlanc, a white alligator.
But on Friday there was more happening at the zoo than Antoine and fellow creatures. After the zoo closed at 5 PM, the real rumpus began when it reopened an hour later with Zoofest for Kids.
Antoine has been at the zoo now for two weeks. He's on loan from the Audubon Zoo in New Orleans and will be in San Francisco through the Summer.
He is not an albino, say zoo official; he's leucistic. With an albino, the black pigment cells don't work. With a leucistic, there are no cells in the first place.
This not only makes Antoine rare, it makes him not well suited to live in the wild; with exposure to the sun he burns. As a result, Antoine has been given indoor quarters at the San Francisco Zoo. The birds have been booted out of the Aviary building which Antoine occupies all by himself.
The six-foot, fifty-pound bachelor has blue eyes, rather than red as he would if her were an albino.
Said one patron, looking at Antoine alone in his tank, "It's too bad he doesn't have a friend." Unfortunately, when you're leucistic friends are limited.
Antoine appeared to be still shy after two weeks, spending most of his time at the far side of the tank away from the viewing public.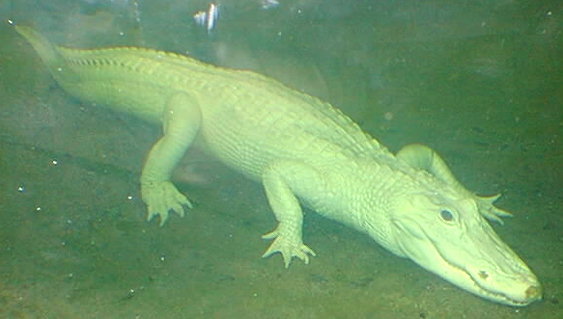 Antoine was born in 1987 but comes of a long ancestral line. As part of the crocodilian family, his relatives have been around since the dinosaur. Of the 22 species left today, 17 are on the verge of extinction. That may make Antoine even more rare.
He lives in the Aviary in a special tank that extends the height of the water about two feet. Children get perhaps the best view of Antoine by viewing him through the wall of the tank, since refraction magnifies him at that level. Said one small child, standing up, then bending over, "Mommy, there are two alligators!"
Antoine's diet consists of whole chickens and rats. He is fed twice a week.
Since Antoine would have great difficulty making it in the wild, he probably has a good thing going for him in San Francisco, which is rated number one by tourists. Will he miss the city when he leaves in September? Probably. Most tourists say they do. The city will miss Antoine, anyway.
While Antoine has certainly stolen the show at the San Francisco Zoo, the zoo public relations has done it best for another new addition--two African wart hogs. With names like Porky and Bess they sound like appealing little creatures, and Zoo literature describes them as "charmingly ugly," though "ugly" is probably sufficient.
Currently these two appear to be keeping their distance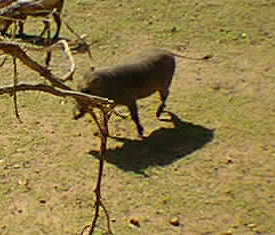 from the public, spending most of their time eating grass with their long front legs bent at the "wrist" to get closer to the ground.
Although hyped by zoo literature, Porky and Bess seem to draw little interest from zoo patrons. One young patron scraped up a handful of dirt and threw it in their direction before being scolded by his mother.
Now the hippos are another matter. Though by no means new to the zoo, they still draw a good crowd to watch them lie mostly submerged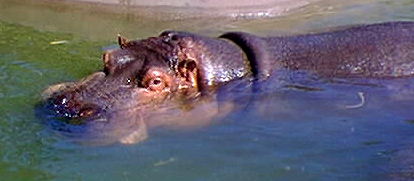 in a great trough of water. Of all the creatures at the zoo, they look totally content in captivity; maybe even the better for it. They look as though they have "arrived." They only lack cocktails to make them look like two "fat cats" sitting around a swimming pool.


And there are other animals, not new to the zoo, that also draw. Like the elephants, the lions, and the polar bears.
When the zoo closed at 5 PM, the festivities began in and around the Lion Hall: ZooFest for Kids.
The event usually nets about $50,000, according to Nancy Fox, spokesperson for the event. "ZooFest for Kids is one of the two major fund raisers that the San Francisco Zoological Society has for the San Francisco Zoo." The society took over the management of the zoo from the city four years ago.
"This event," said Fox, "is for families and children." A "gala" event held back in April--called just "ZooFest"--was aimed at adults, and admission was higher. This event cost $20 for children and $35 for adults. The proceeds go to the conservation and education fund of the zoo.
Food and entertainment was donated by local businesses and professionals. Magician Doug Kipping was there entertaining children with his corn snake. "He doesn't bit; he wraps around you and chokes you till you can't breath," he told one of the little ones, who looked fascinated.
"I use a lot of animals," said Kipping. "I use rabbits, ducks, doves, snakes--you know, anything I can get hold of and produce in a magical way." He's been doing magic shows for 12 years and has done what he calls "zoo night" for the last eight years or so.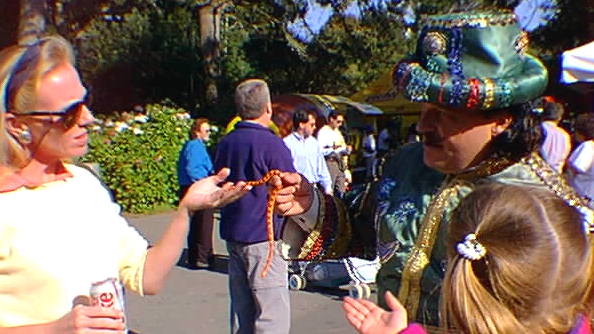 Kipping gained his confidence to do the unusual, like magic shows, when he got involved with delivering balloons for major events in San Francisco. He was a photographer with a "south-of-Market" studio. "Next door was a balloon lady. She got us involved in delivering balloons. She needed a lot of people one day."
Now he dressed up in a green silk costume with sequins and a false mustache and entertains children--in addition to photography and "media" work.
"I've been learning all kinds of gypsy arts, like palm reading . . . I can do magic tricks with cards, coin tricks, tricks with all these animals, and children love to interact with animals."
One of the charms of ZooFest for Kids are the animals. Some, like a Swainson hawk, a Bal python
, and a baby alligator, are brought out of their cages and over to the festival for the kids to see close up--and in some cases touch. Evan Tamayo, who brought over the python wrapped around his arm, covered the snake's head with his free hand as he let kids touch the massive snake.
With music in the air and tables heaped high with food, ZooFest for Kids had a magic about it befitting the beginning of Summer. Definitely a White Alligator Day.
---
Comments?
editor@coastnews.com
---