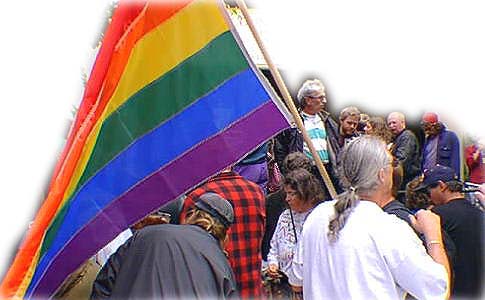 Scene of cannabis protest earlier in the month, Dennis Peron in middle of background

POLICE WON'T BUST FOR MEDICAL MARIJUANA
scott martin
cns news & features
San Francisco--
Showing compassion towards those puffing pot for medical purposes, the city of San Francisco declared policing of medical marijuana to be its lowest priority. Peddlers will enjoy the same lax enforcement.
"Medical marijuana prosecution is the very lowest priority," District Attorney Terence Hallinan said; "my office will see to that."
The San Francisco Police Department said it will no longer police medical marijuana.
And the board of supervisors said it supported a lenient policy towards medical marijuana. "We have a joint resolution," Supervisor Tom Ammiano said.
The announcements were followed by cheers from nearly 200 people at the hearing .
HEALTH DEPARTMENT WANTS TO STUDY MEDICINAL USE
Health Department Director Sandra Hernandez said her department wants to do more research to assess the benefits and risks of medicinal marijuana use.
"It is beneficial to those with appetite problems associated with their disease," Hernandez said.
The Board discussed setting up cannabis distribution through the health department--and separate from the Cannabis Buyers Club, which now appears to be permanently shut down.
"We would like to regulate it (the marijuana)," Hernandez said.
CITY WANTS DISTANCE FROM CANNABIS BUYERS CLUB
Fearing repercussions from the state, the city backed away from earlier statements supporting a state of medical emergency for cannabis distribution. This has distanced the city from the Cannabis Buyers Club, which the city had supported earlier.
State Attorney General Press Secretary Steve Telliano said previously, "Counties do not have the authority to declare a public health emergency and then use that to circumvent criminal laws."
San Francisco's needle exchange program operates under a state of medical emergency declared by the board of supervisors. But that program is on shaky legal ground, and the board fears that declaring a state of medical emergency allowing cannabis distribution could jeopardize it.
MEDIA PROBLEMS?
Ammiano said that the media had portrayed him as supporting a state of medical emergency, which he said wasn't true. CNS News reported Ammiano saying he supported the state of emergency and has Ammiano on tape. Ammiano had also previously stated that the Cannabis Buyers Club could continue to operate after the bust, as far as he was concerned.
Dennis Peron, founder of the Cannabis Buyers Club, said the media is out to get him.
He defended himself, saying he operated his business "more from his heart than his head." He said he is solely responsible for the club's closure and apologized for letting down those in need.
(8/25/96)
---
Comments?
editor@coastnews.com
---