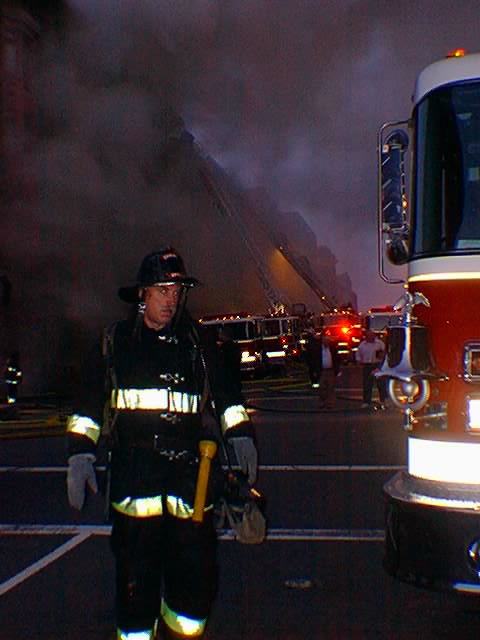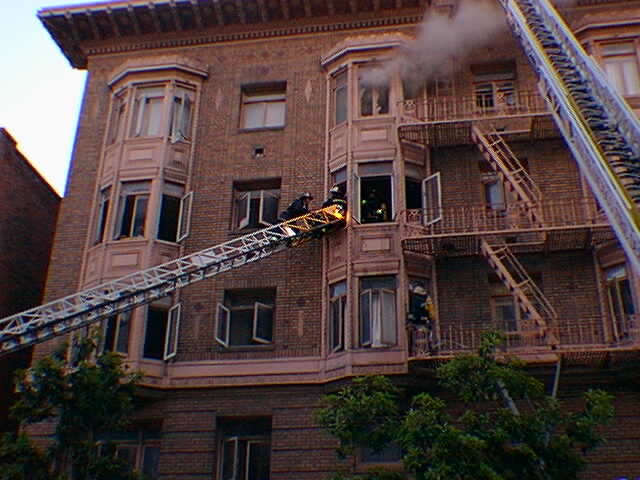 WOMAN DIES, NINE INJURED IN BUSH STREET FIRE

louis martin
cns news & features
San Francisco--
An early morning fire on Tuesday claimed the life of one woman and left nine other injured.
An older woman and her daughter, trapped on the fourth floor of the apartment building at the corner of Bush and Jones Street, apparently chose to jump from their apartment window to avoid smoke and flame. The mother died and the daughter is in critical condition.
The fire started about 5 AM, probably in the basement of the four-story, brick-and-wood building, and quickly spread to the upper floors.
Another woman on the forth floor of the building said there was little notice of the fire. She woke up hearing the building alarm. "I first thought it was a joke," she said. She got out with one of three cats and nothing else.
The five-alarm fire brought out 140 firefighters. One had to be carried down a ladder from the third story of the building.
The blaze took firefighters two hours to control and sent smoke bellowing into the sky from the lower part of Nob Hill. The heat of the fire could be felt at times from the sidewalk across the street.
A liquor store and laundry on the street level were also destroyed in the blaze.
The building has outside fire escapes, but one man said he was unable to get out of his room to the fire escape. He was rescued by fire fighters with a hook and ladder truck.
The fire is being investigated for possible arson.
(6/11/96)
---
Comments?
editor@coastnews.com
---